Introducing Orosa Beauty Nail Paints
0 comments
Posted on November 04 2020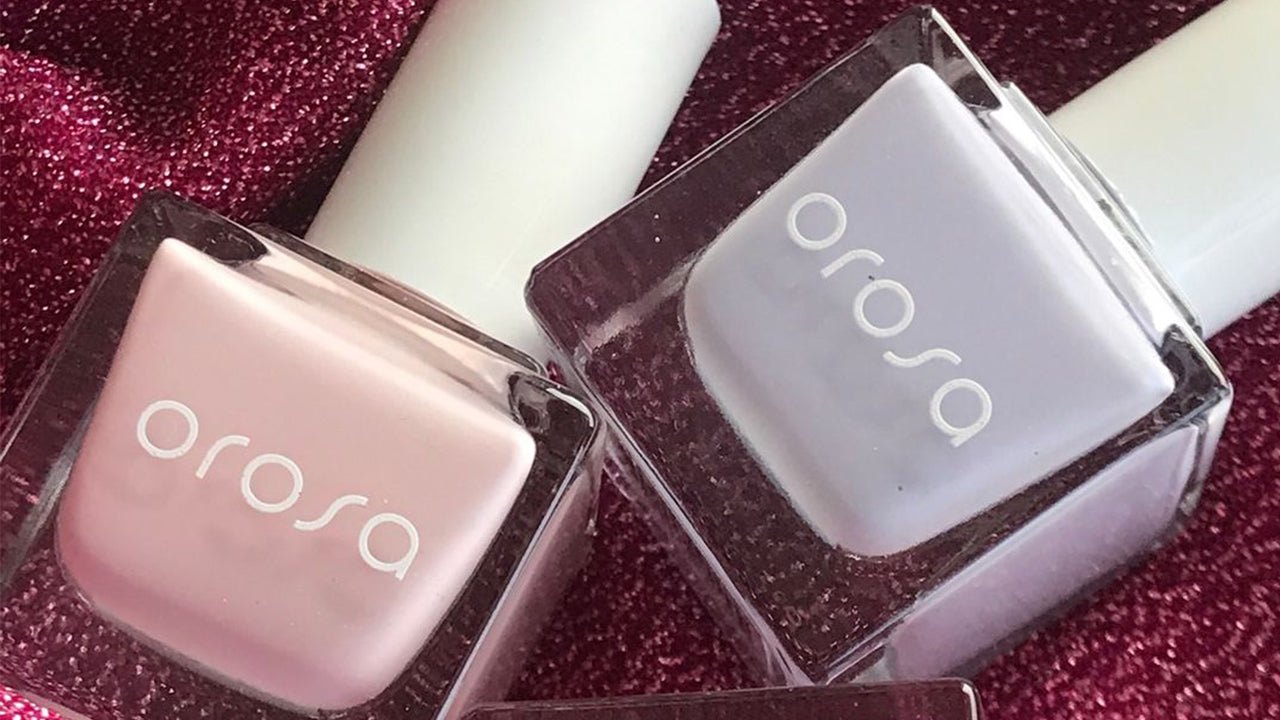 Beyond Polish is proud to welcome Pure Cover Nail Paint by Orosa Beauty! As most of us are still probably doing our nails at home, Orosa's "do-it-all" nail lacquer formula is perfect for that DIY manicure. The quick-dry formula and cuticle-hugging brush make it fun and easy to do your own nails. Not to mention, Orosa is vegan, 14-free and cruelty-free. What's not to love?
The Nope List
Orosa's commitment to providing the best products for consumers goes beyond just offering a wide range of colors. They created their Nope List, which contains a group of 14 harmful toxins they're committed to never using. Here's the list:
Formaldehyde: This toxin can sometimes cause skin irritation and allergic reactions
Dibutyl Phthalate (DBP): It's been known that DBP may cause reproductive harm.
Formaldehyde Resin: This toxin can sometimes cause skin irritation or allergic reactions.
Toulene: Temporary symptoms include headaches, nausea and dizziness when inhaled. Prolonged exposure may cause long-lasting neurological effects.
Camphor: Harmful when ingested and chronic exposure can lead to liver damage.
Triphenyl Phosphate: This toxin is extremely dangerous to aquatic life. It's been known to cause reproductive and endocrine system issues.
Ethyl Tosylamide: Because of its similar molecular structure found in some antibiotics, this toxin is actually banned in the EU. The major concern is that exposure could help the evolution of antibiotic-resistant bacteria.
Xylene: Exposure to this toxin can sometimes cause dizziness, headaches and nausea.
MEHQ (Mequinol) / HQ (Hydroquinone): These toxins are known to cause skin sensitivity.
MIT (Methylisothiazolinone): This toxin is known to cause dermatitis.
Palm Oil: The global demand for palm oil has resulted in significant deforestation and environmental damage. 
Parabens: They're known to be linked to a number of conditions including breast cancer, skin reactions and increased sensitivity to UV radiation.
Gluten: For those allergic to gluten, it can cause serious irritation for those with Celiac disease. It's sometimes found in nail polish in the form of Hydrolyzed Wheat Protein, which helps bind keratin and strengthen the nail.
We're excited to bring on Orosa Beauty's Nail Paints and hope that you will enjoy them for your own DIY manicures. We'd love to see those #nailfies so don't forget to share your photos with us on Instagram and Facebook by tagging us @beyondpolish and use the hashtag #GoBeyondTheBottle. 
Black Friday and Cyber Monday will be here soon! Sign up for our newsletter to get early access and special promotions. Also, join our special text club to be the first to know about new collection launches and deals.
Join our rewards program to start earning points that may be redeemed for free products or exclusive discounts! Create an account for free to get started!
Tags: Collections , Orosa Beauty ,