Introducing Nails Mailed Nail Wraps
1 comment
Posted on September 10 2021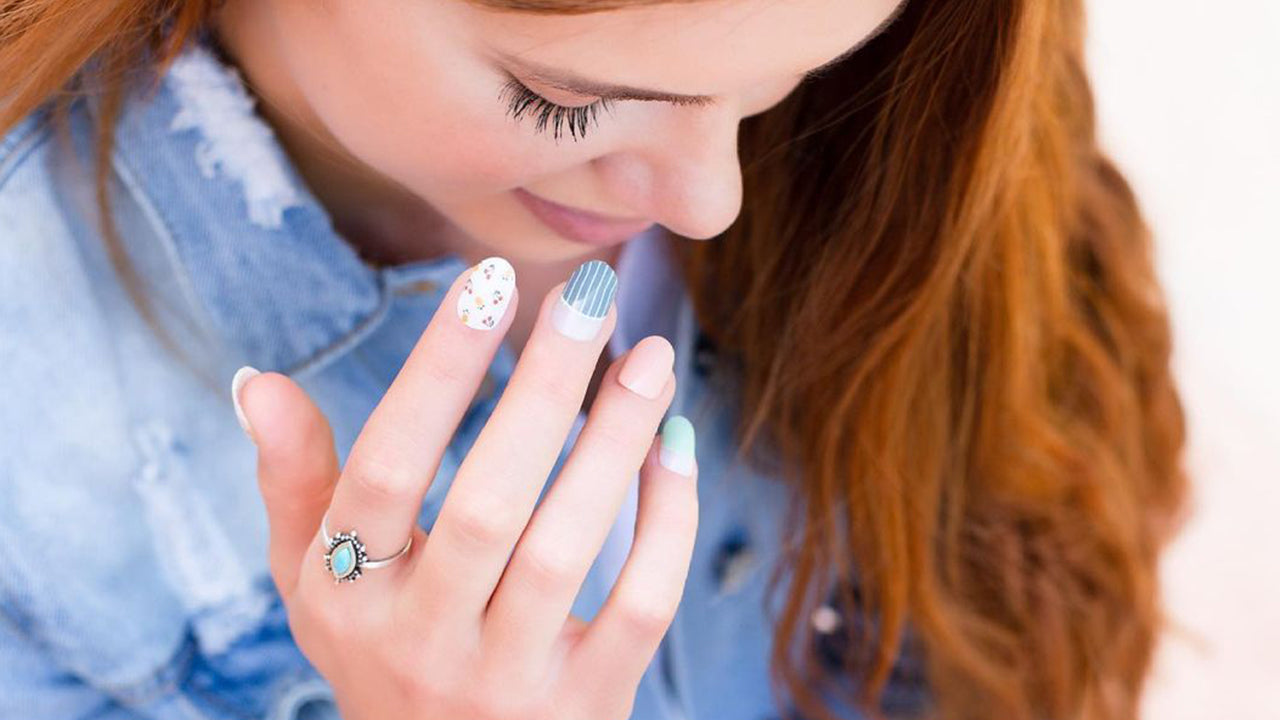 Maybe you don't have a lot of time. Maybe you want to do your nails but don't want to wait for them to dry. Maybe you're just looking to try something new! Beyond Polish is proud to welcome Nails Mailed Nail Wraps to the family! Available in regular nail wraps and gel wraps, DIY nail art has never been easier! With a wide variety of styles and colors to choose from, you can create as many different looks as you'd like! New to nail wraps? Check out these quick tutorials below!
How To Apply Nails Mailed Wraps
1. Clean your nails and make sure they are free of any dirt or debris. 
2. RECOMMENDED: Clean up your cuticles (either using a nipper or cuticle remover).
3. Use rubbing alcohol to remove any unseen debris or oil.
TIP: If you're having trouble getting your nail wraps to stick, they recommend using a base strengthener.
4. Find the right size wraps for each of your nails. This is a crucial step because this will determine how long they stay on your nails. Using the right size can give you up to 10-14 days of wear.
5. Measure each wrap against your nail before peeling it from the set. If there is not a wrap large enough for your nail, simply stretch it to fit your nail size.
6. Once you've measured out all your wraps, peel each one from the set. Remember to also peel the clear plastic layer from the top. 
7. Firmly press each wrap onto your nails, just above the cuticle. (Avoid placing the wrap on any skin, including cuticles. This will cause them to peel up easily.)
8. Use your thumbnail or a wooden cuticle pusher to gently smooth our bubbles and imperfections. (This is important in getting a secure seal on the wraps)
9. Fold any excess wrap over the free edge of your nail. PRO TIP: Let the wraps sit for a few minutes to get a stronger seal.
10. File off the excess wrap. (If you'd like to save any excess nail wrap, cut it with makeup scissors before filing.)
11. Add a clear top coat for added protection and shine. (For maximum results, reapply your topcoat every few days!)
How To Apply Nails Mailed Gel Wraps
1. Thoroughly prep your nails by removing any dirt or debris from the nail plate and cleaning up your cuticles. 
2. Choose the appropriate size of Gel Nail Stickers. Like the regular wraps, you may need to stretch them to make them fit your nail. 
3. Remove the plastic cover from the wrap and peel from the base.
4. Place the wrap onto the nail plate away from any skin or cuticle. If the wrap is applied to your skin, it will peel off prematurely. 
5. Use a wooden cuticle pusher to gently smooth out any bubbles or imperfections.
6. Use makeup scissors or a nail clipper to remove any excess wrap. Keep in mind that the Gel Wraps are a bit thicker than the regular nail wraps. 
7. Gently file away the excess wrap. 
8. Cure with an LED lamp for one minute, then check to see if they have hardened, If more curing is needed, cure in 1-minute increments until they have sufficiently hardened.
PRO TIP: Be sure to put leftover wraps back into the packaging so they stay semi-cured. Any exposure to UV rays from the sun will cause the wraps to harden before they're applied.
BONUS STEP: Add the Nails Mailed High Shine Gel Top Coat to your look for an extra long lasting manicure. 
If you try out any of these designs, we'd love to see those manicures! Share your photos with us on Instagram and Facebook by tagging us @beyondpolish and use the hashtag #PolishWithBeyond. You might get featured!
Want early access to upcoming collections and exclusive discounts? Download our mobile app! Enjoy an easy & seamless shopping experience right from the palm of your hand. Join our text club to stay up to date on the latest from us! You'll be the first to know about upcoming sales and promotions. Want to become a VIP member? Join our FREE Rewards Program and start earning points for your purchases! Points may be redeemed for special discounts or free products! Enjoy more benefits when you join today! Like shopping with us? Tell your friends! We'll give them $10 off their first order and give YOU $10 for every successful referral! Shopping has never been easier thanks to Afterpay! Pay for your order in 4 easy, interest-free installments. 
Tags: Collections , Nail Art , Nails Mailed ,