Orosa Freshly Picked: Spring's Fruity Shades
0 comments
Posted on March 12 2021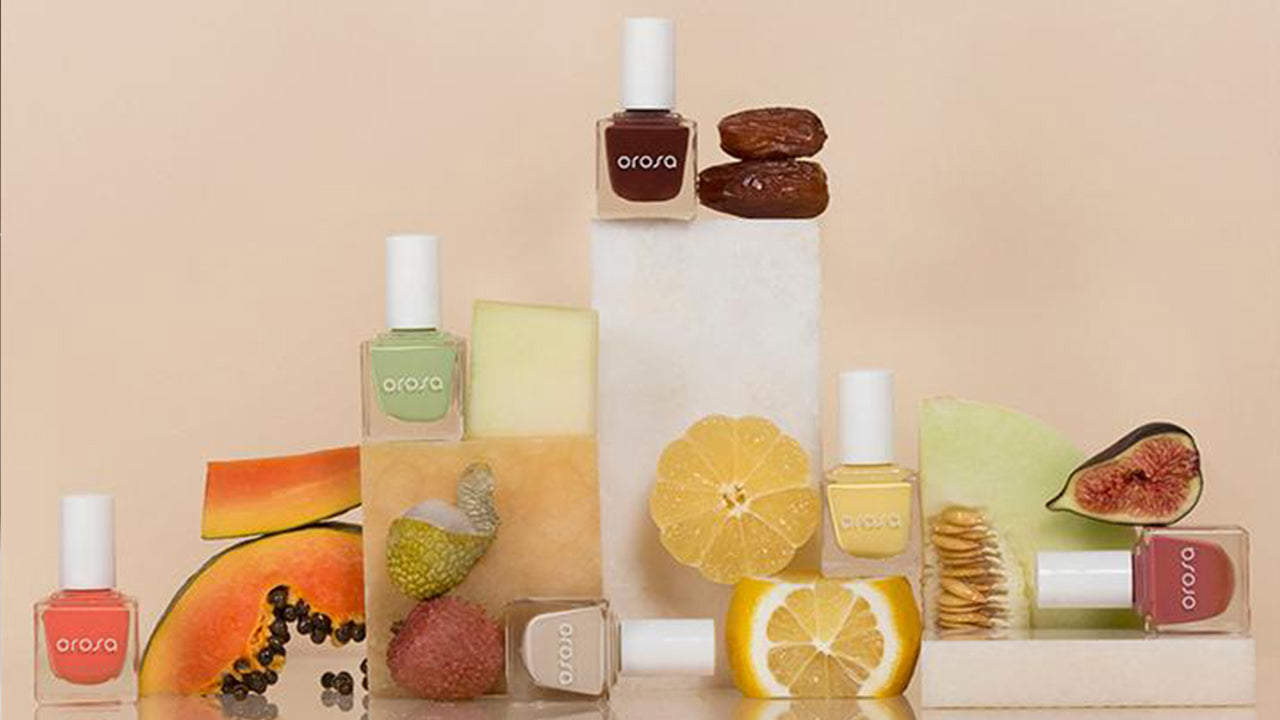 Orosa is back with a new collection! The Freshly Picked Collection includes 6 fruity shades ranging from bright coral to a dark brown. Orosa Beauty is a vegan, cruelty-free, non-toxic (14-free) beauty brand committed to producing safe nail & beauty care products. Let's take a closer look at their new spring collection!
Orosa Freshly Picked Spring 2021 Collection 
Papaya
(a bright orange with coral undertones)
This is the perfect transitional color from spring to summer. As the month's get warmer, we search for brighter colors. If you're someone who likes to make a bold statement with your manicure, then this is the perfect shade for you!
Honeydew
(a soft green with yellow undertones)
Going with the traditional pastel theme, this green is not too bold and not too bright. It's definitely a classic spring color and will complete any look this season. 
Date
(a rich brown with red undertones)
While this may not be your expected spring color, it's still a great neutral that'll complement any skin tone. If you're someone who like to keep a simple manicure, then perhaps this is the shade for you. Although this color is from the spring collection, it can be worn during any time of the year!
Fig
(a mauve with pink undertones)
Where are all our mauve lovers at? This is yet, another timeless nail color that works during any time of the year and looks great against different skin tones. If you're going for a classic, feminine look, then this is the perfect color for you.
Lemon
(a light & creamy yellow)
Here's another classic spring pastel, but if you haven't tried a yellow nail color yet, maybe this is the time to do so! Lemon is a very light yellow, not too bold but adds the perfect pop of color. Complete your spring look with this cheery shade.
Lychee
(a creamy ivory)
If you're a fan of neutral nail colors, then this is your go-to color. Lychee is an ivory nude. It's a neutral that adds a little pop of color. We're loving this fresh shade!
Which color is your favorite? Let us know in the comments below! If you try any of the the colors from the collection, be sure to share your photos with us on Facebook and Instagram @beyondpolish and use the hashtag #PolishWithBeyond! 
Download our mobile app to get early access to upcoming collections and exclusive discounts. Want to become a VIP? Join our Rewards Program to start earning points for your purchases. Join our text club to receive the latest news from us! 
Tags: Collections , Orosa Beauty ,