Introducing butter LONDON!
0 comments
Posted on May 14 2021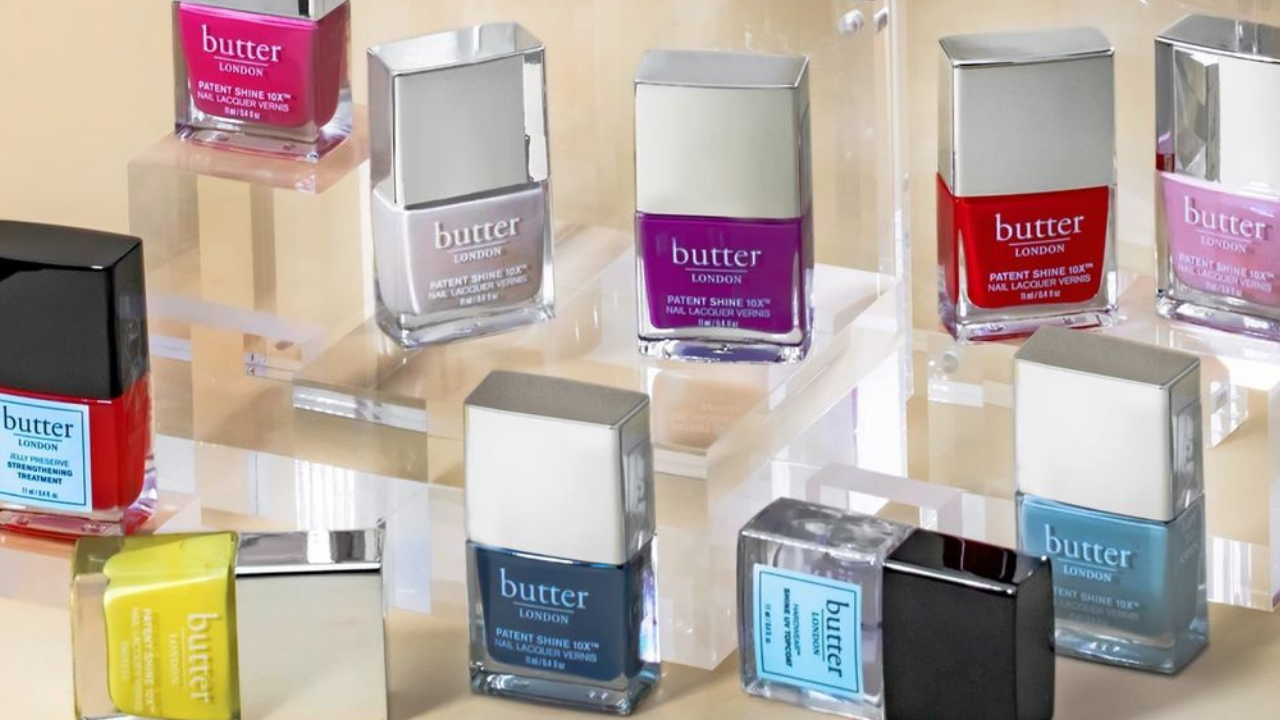 Founded in 2005, butter LONDON was created out of a rebellious spirit defined by a personal objective: offer a non-toxic nail lacquer without compromising color, quality, or performance. At the time, nail colors were limited and many formulas were toxic, so butter LONDON wanted to change that. Since then, butter LONDON has expanded to offer a wide variety of beauty products including eye, face, and lip cosmetics. 
As clean beauty continues on a rise and consumers are more conscious of what they put onto and into their bodies, non-toxic nail polish formulas have becoming increasingly popular. butter LONDON's original formula started off as 3-free and has since then changed to 10-free (their nail lacquers and treatments are free of Formaldehyde, Formaldehyde Resin, DBP, Toulene, Camphor, Ethyl Tosylmide, Xylene, Parabens, Gluten & TPHP. butter LONDON is also cruelty-free and vegan.
There's more to rave about butter LONDON's 10-free, vegan, cruelty-free nail lacquers. Their Patent Shine 10X formula is also designed to protect, smooth and strengthen your nails. butter LONDON nail lacquers are infused with:
Shock Resistant Polymer Technology (provides long wear and chip resistance; provides gel-like shine)
Diamond Power (brightens color)
Bamboo Extract (helps promote stronger nails, prevents breakage & peeling for healthier-looking nails)
UV Absorbers (prevents fading)
Radiant Curing (hardens & dries with natural light)
We couldn't be more excited to bring on this award-winning brand and we hope you're just excited! Let's take a closer look at some of the colors!


Shade: Come To Bed Red
This timeless, rich red hue is a classic and always a great staple to have. A red will complete any look, no matter the time of year. 
Shade: Brolly
This smoky navy blue creme is the new neutral. This color is a great choice for the cooler seasons when you want to rock a darker look. Fun fact, in London, Brolly is the slang term for umbrella!
Shade: Hottie Tottie
Summer is just around the corner, and if you're looking to brighten up your mani, this soft coral creme is perfect! Complete your sun-kissed look with this favorite.
Shade: Yummy Mummy
This cool beige shimmer is perfect for those who like a minimalistic look. Nude nail colors never go out of style and this one is great because it complements a variety of different skin tones. 
Shade: Bonkers
This cool magenta creme works as a great transitional shade from summer to fall. It still offers that pop of color without feeling too bright and vibrant. 

P.D. Quick Dry Conditioning Drops
butter LONDON's P.D. Quick Dry Conditioning Drops was designed to help nail polish dry faster! This serum also helps precent nail lacquer nicks and smudges. It's also infused with Rose Hip Seed Oil to help condition and nourish nails and cuticles. This sleek design makes it travel-friendly, so you can take this with you on-the-go!
Are you excited for butter LONDON to join the BP family? Let us know which colors are your favorites in the comments below. If you try any of the colors, share your nailfies with us on Instagram and Facebook by tagging us @beyondpolish and use the hashtag #PolishWithBeyond! 
Want early access to upcoming collections and exclusive discounts? Download our mobile app and enjoy an easy, convenient shopping experience. Join our text club to keep up with the latest news from us. Want to become a VIP member? Join our FREE Rewards Program and start earning points for your purchases. Points may be redeemed for exclusive discounts and products! Who doesn't like to get rewarded for shopping?! Speaking of shopping, did you know we also offer Afterpay? Shop now and pay later (in 4 easy, interest-free installments). It doesn't get any better than that!
Tags: butter LONDON , Collections ,