China Glaze Havana Nights: 6 Electric Shades For Your Summer Festivities
0 comments
Posted on May 17 2021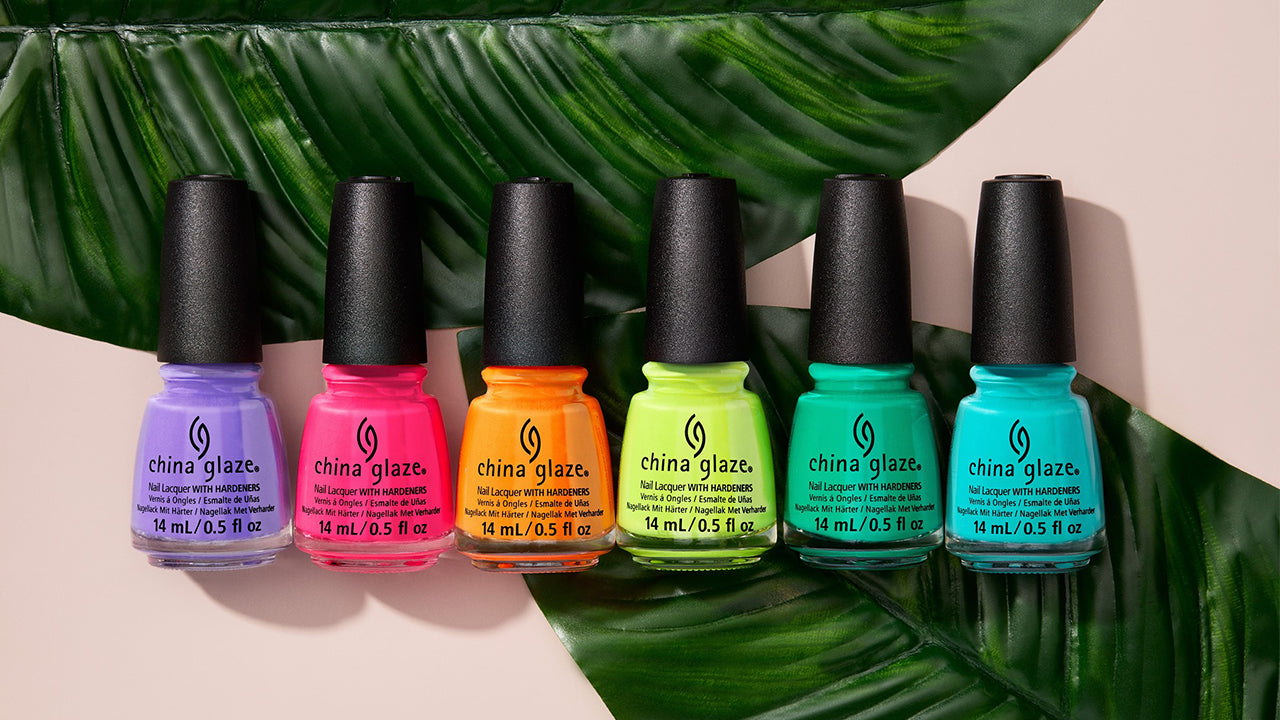 Inspired by the vibrant florals, expressive color & flamboyant night life of Havana, China Glaze brings you a limited edition collection of six nail colors ranging from shimmer to neon finishes. Neon nail colors tend to be extremely popular during the summer and this year is no exception. We've gotten a lot of vibrant colors from Essie's Summer Trends 2021 Collection, Zoya's Easy Neon Collection, CND's Summer City Chic...and now China Glaze's Havana Nights. Let's take a closer look at the collection!
China Glaze Havana Nights Collection:
Guava Mama
(a bright fuchsia pink with a neon finish)
If you're looking to rock a hot pink nail color this summer, this is your go-to! What's also great about this color (and the other colors in the collection as well), is that the formula runs on the thicker side, so you only need 1-2 coats for full coverage.
Takes Two To Mango
(a bright orange shimmer with a neon finish)
This color is unlike any of the other ones in the collections because it's the only one that has a slight shimmer. The formula includes a hint of gold glitter that creates a unique look. 
Tropic Like It's Hot
(a bright yellow with a neon finish)
A bright neon yellow is a summer mani staple, and while there are many similar shades to this one out there, this one has some green undertones. The formula is a bit thinner than the others, so you'll need 2-3 coats for full coverage. 
Head To Moji-Toes
(a bright seafoam green with a neon finish)
This gorgeous color has some cooler undertones, but still great for summer. You only need 1-2 coats for full coverage. 
Cuba Diving
(a bright sky blue with a neon finish)
This color is the perfect mid-tone blue to complete your summer look. It's not as neon as the other colors, but still bright enough that it adds that pop of color. This color can actually work as a great transitional shade between spring and summer.
Left My Heart In Havana
(a bright violet purple with a neon finish)
Although this one may not be as bright as the other colors in the collection, Let My Heart in Havana is the perfect mid-tone purple for your summer look. It's opaque in 1-2 coats. This is a great option for those who don't want to go too bold but still want that pop of color.
Neon nail colors will continue to be a popular summer nail trend, so if you haven't tried it yet, what are you waiting for? Step outside your comfort zone and make your nails the ultimate statement accessory. Which color(s) will you try from the Havana Nights Collection? Let us know in the comments below! As always, share your nailfies with us on Instagram and Facebook by tagging us at @beyondpolish and use the hashtag #PolishWithBeyond. You might get featured!
Want early access to upcoming collections and exclusive discounts? Download our mobile app and enjoy an quick, easy shopping experience. Join our text club to receive the latest news from us. Want to become a VIP member? Join our FREE Rewards Program and start earning points for your purchases. Points may be redeemed for exclusive discounts or free product!
Tags: China Glaze , Collections ,