Cirque Afterglow: A Collection Inspired By Golden Hour
0 comments
Posted on February 23 2021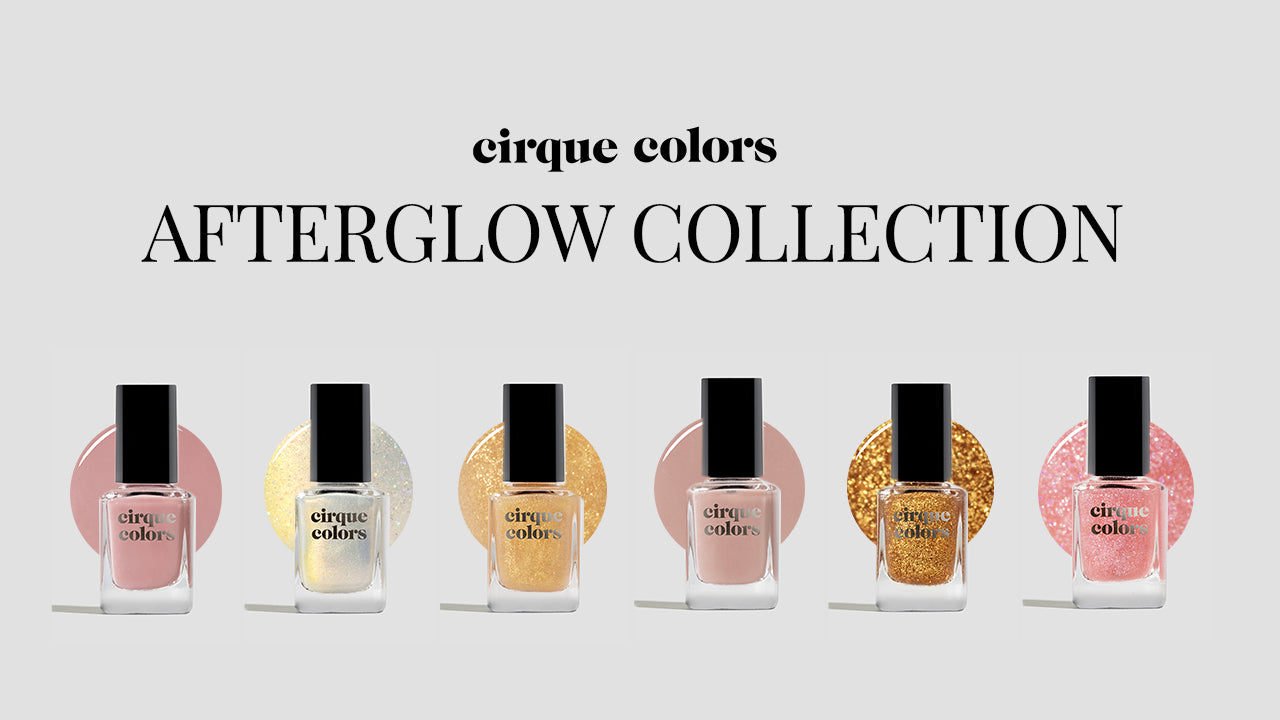 Cirque Colors is back with a new collection! The Afterglow collection includes 6 limited edition colors inspired by dewy glowing skin in golden-hour sunlight. What's great about these shades is that they can either be worn on their own or layered on top of a base color for an elevated look. Let's take a closer look at the collection!
Cirque Colors Afterglow Collection:
Georgette is a sheer mauve pink color. It can be used as a base color for toppers and nail art or worn alone for a natural look.
Moonbeam is a sheer white nail polish with a pearl finish and a delicate holographic sparkle. This shade can be layered over a base color or worn alone for a luminous sheen. The model is wearing 2 coats of Moonbeam over bare nails.
Nectar is a shimmery gold shimmer. The model is wearing Nectar on top of Georgette but this color can also be worn on its own for a shimmery nude look.
Rose All Day is a glistening holographic shade with a clear pink base. It includes transparent holographic glitters that won't wash out your base color, should you use it as a topper. This shade can also be worn alone for a sparkly look.
Sun-Kissed is a deep metallic flake nail polish topper. This shade can be work over a base color or worn alone for a subtle hint of shimmer. The model is wearing Sun-Kissed on Georgette.
Voile is a sheer terracotta pink shade. It's the perfect base color for some of the other toppers or it can be worn alone for a natural, barely-there look.
This collection is perfect for those wanting to change up their manicures while still keeping a more simple and minimalistic aesthetic. It's not even summer yet, but this collection is having us thinking of warm summer nights and watching the sun set during golden hour. Which color from the collection is your favorite? Let us know in the comments below! If you try this collection, share your #nailfies with us on Instagram and Facebook by tagging us @beyondpolish and use the hashtag #GoBeyondTheBottle.
Download our mobile app for early access to collections, exclusive discounts & more. Join our Rewards Program to earn points for your purchases which can be redeemed for free products or discounts. Sign up for our text club to receive the latest news from us and get 5% off! 
Tags: Cirque Colors , Collections ,