CND Painted Love Holiday 2022
0 comments
Posted on October 26 2022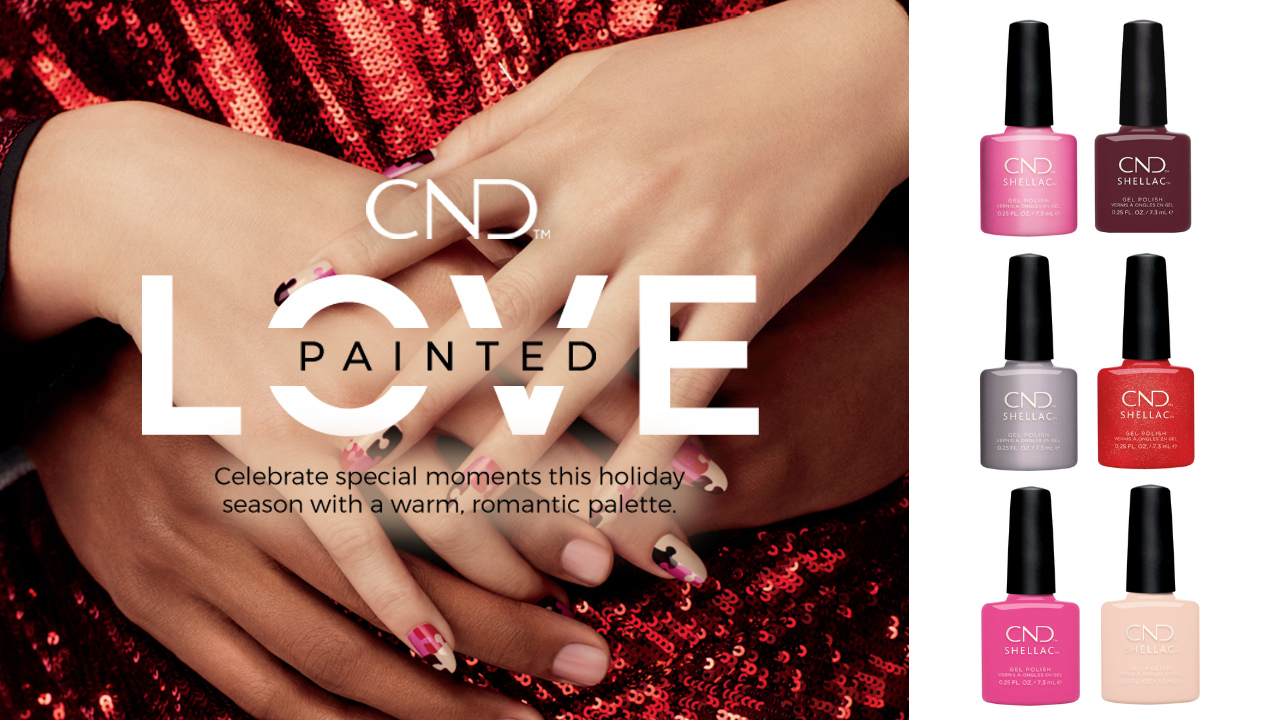 CND celebrates the special moments of the holiday season with their new Painted Love collection. The collection includes six romantic colors available in both CND Shellac gel polish and CND Vinylux long wear polish. Stepping away from the traditional holiday palette this season, this collection includes is essentially made up of nudes and neutrals with pops of pink and red. Now let's take a closer look at the collection!
CND Painted Love Holiday 2022:

This color can be described as a dark mauve with red undertones. A color like this timeless, elegant and sophisticated. 
This color can be described as bright flamingo pink. Pink is a symbolic color of love and your nails will definitely make a statement with this pop of color.
This color can be described as a mid-toned grey with warm undertones. Grey is often a popular nail color during the winter season. A color like this symbolizes neutrality, balance and intellect. 
This color can be described as a bright cherry red creme. It's bold, yet classic. Red is also a color of love, as well as passion. 
This color can be described as a bright Barbie pink creme. It also has a hint of shimmer to take your mani to the next level. 


This color can be described as a universal pale pink creme, which combines the passion of pink and the purity of white in this sultry nude. 
Which color(s) do you like the most? Let us know in the comments below. As always, if you try out any of the colors from the collection, share your photos with us on Instagram and Facebook by tagging us @beyondpolish and use the hashtag #PolishWithBeyond. You might get featured!
SHOP COLLECTION

Want early access to upcoming collections and exclusive discounts? Download our mobile app! Enjoy an easy & seamless shopping experience right from the palm of your hand. Join our text club to stay up to date on the latest news from us! You'll be the first to know about any upcoming sales or promotions. Want to become a VIP member? Join our FREE Rewards Program and start earning points for your purchases! Points may be redeemed for special discounts or free products! Like shopping with us? Tell your friends! We'll give them $10 off their first purchase and give YOU $10 for every successful referral. Shopping has never been easier thanks to Afterpay! Shop now and pay for your order in 4 easy, interest-free installments. The best part is that there are no additional delays in getting your order. 
Tags: CND , CND Collections , CND Winter , Collections ,