DIY Fall Nail Art Designs
1 comment
Posted on September 03 2021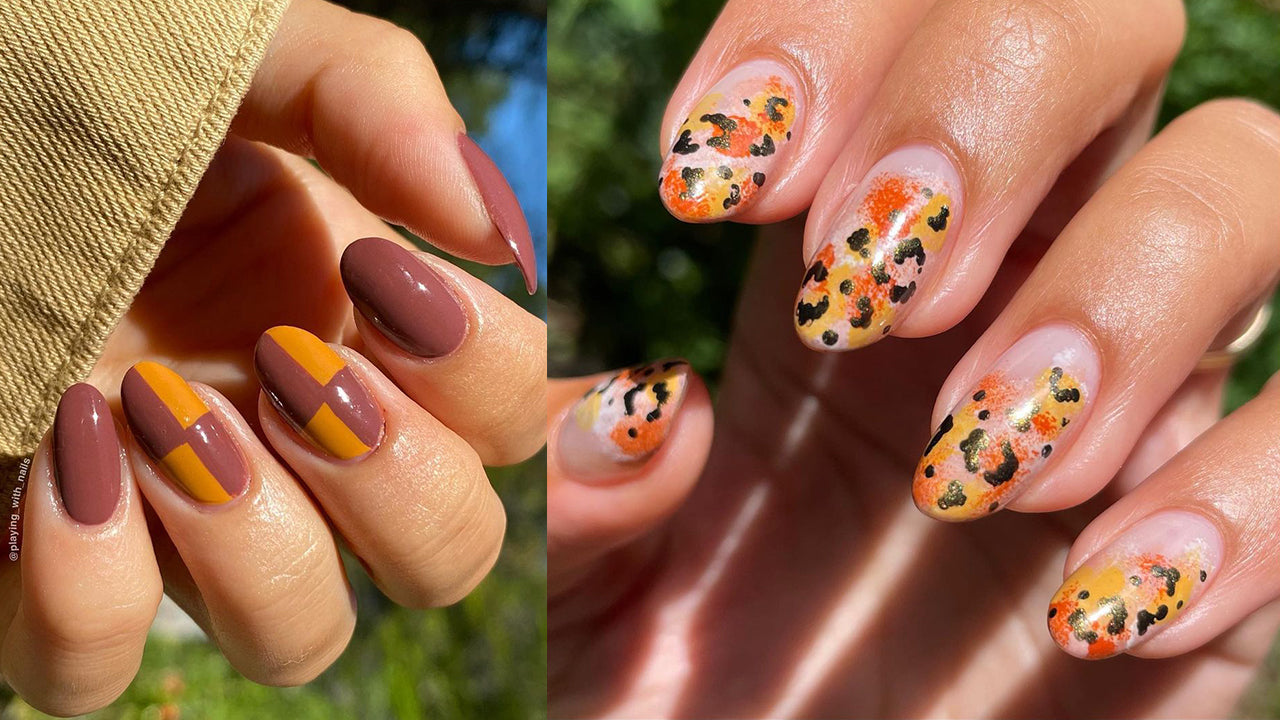 A new season means it's time for a fresh manicure! In need of some fall nail art inspo? Look no further! We're here to show you the trendiest fall nail colors and nail art designs. Feel free to share your looks with us on social! We'd love to see them!
Typically during this time of year, we start to see darker, cooler colors. A classic red is always a go-to. Maybe you like rocking a navy blue or olive green. However, this year, we are starting to see more non-traditional nail colors. Take Essie's High Voltage Vinyl Collection, for example, which includes a cobalt blue and a dark lime green. 
Classic Solid Colors
If you are a beginner or even a professional, start with some classic solid colors. If you're looking for something simple and effortless, this is the way to go. Classic solid colors nail polish obviously never goes out of style but it does not mean you have to stick with them. Be bold and make your own rules. The explore page on Instagram is filled with many different styles of solid nail polish.
📷: Brandi @livwithbiv


📷: @naileditpolish50
"My Studio's On Spring" from the OPI Downtown Collection is the perfect fall nail color. It's great for those looking for a more subtle pop of color this season. 
📷: Kristen @mynailsarewet
Glitter Nail Polish
If solid colors are a little too plain for your taste, you can always add glitter. We asked on Instagram if you like glitter and 80% of you said YES. There were a lot of messages from the BP Fam saying glitter completes the whole manicure. If you want to participate in polls like these then follow us on Instagram @BeyondPolish.
 📸: Ana @simple_naildesigns
📸:Daisy @petitenaillover
Holographic nails are in and if you're looking to change up your manicure this season, this is the way to go! Here, Daisy wears Loud Lacquer "Babbs", which is a gorgeous holographic pink. If you're a fan of holographic colors, be sure to also check out Cirque Colors & KBShimmer. 
If you want some more inspiration to vamp up your mani then head on over to our instagram @beyondpolish and look at our tag photos. Our talented BP Fam will show you creative nail art for you manicure.
Animal Print Nail Designs
A rising nail trend that is still hot right now is animal print nail art. There are many designs from cow print nail art to leopard print! If you are an animal lover you will enjoy having cute animal prints on your mani. Your manicure will be the fashion statement.
 📸: Kacey @kacelynnn_
If you tend to bold manis, then the animal print look is perfect for you. Kacey combines different patterns and alternates between a solid color to create this cute nail look. We love this nail art design on her and think it's absolutely perfect for fall!
 📸: Erica @press_reset_nails
Another way to change up the animal print nail art design is to play with negative space. Here, Erica creates her design using different colors and shimmers, almost creating a modern French manicure look. The colors she used were from the China Glaze Autumn Spice Collection.
Geometric/Abstract Nail Art
 📸: Natalie @playing_with_nails
Geometric nails work any time of year, but the colors you choose can make a big difference. Here, Natalie uses a mustard yellow and a mauve nude to create this simple, yet chic, geometric nail art design. The colors she used were Wooded Bliss & Candle Light from the CND Wild Romantics Collection.
 📸: Rachel @essieyall
We love Rachel's simple geometric nail art design using colors from the Essie Gel Couture Museum Muse Collection. A little goes a long way with a design like this!
 📸: Jolanka @jbm_nails
We love this chic abstract fall nail art design by Jolanka. Here, she uses all Essie polishes (Laven-early, Take It Outside, Playing Koi & the Gel Couture Top Coat. One of the cool things about abstract nail art is that there's no right and wrong (and that goes for any of these designs, really). It's all about unleashing your inner nail artist and having fun with it!
 📸: Daisy @petitenaillover
Although Daisy used colors from the Essie Spring 2021 Collection, she said it feels more like a fall collection and wanted to create a fall-inspired geometric nail art design. She said the design reminds her of dino eggs! 
 Want early access to upcoming collections and exclusive discounts? Download our mobile app and enjoy an easy and seamless shopping experience. Join our text club to receive the latest news from us. You'll be the first to know about any upcoming sales and promotions. Want to become a VIP member? Join our FREE Rewards Program and start earning points for your purchases! Points may be redeemed for exclusive discounts or free products. Enjoy other special benefits when you join today! Like shopping with us? Tell your friends! We'll give them $10 off their first purchase and give YOU $10 for every successful order. Shopping has never been easier thanks to Afterpay! Shop now and pay for your order in four easy, interest-free installments. 
Tags: Advanced , Nail Art , Nail Trends ,