DIY Nails At Home vs Bring Your Own Polish (BYOP)
2 comments
Posted on October 01 2021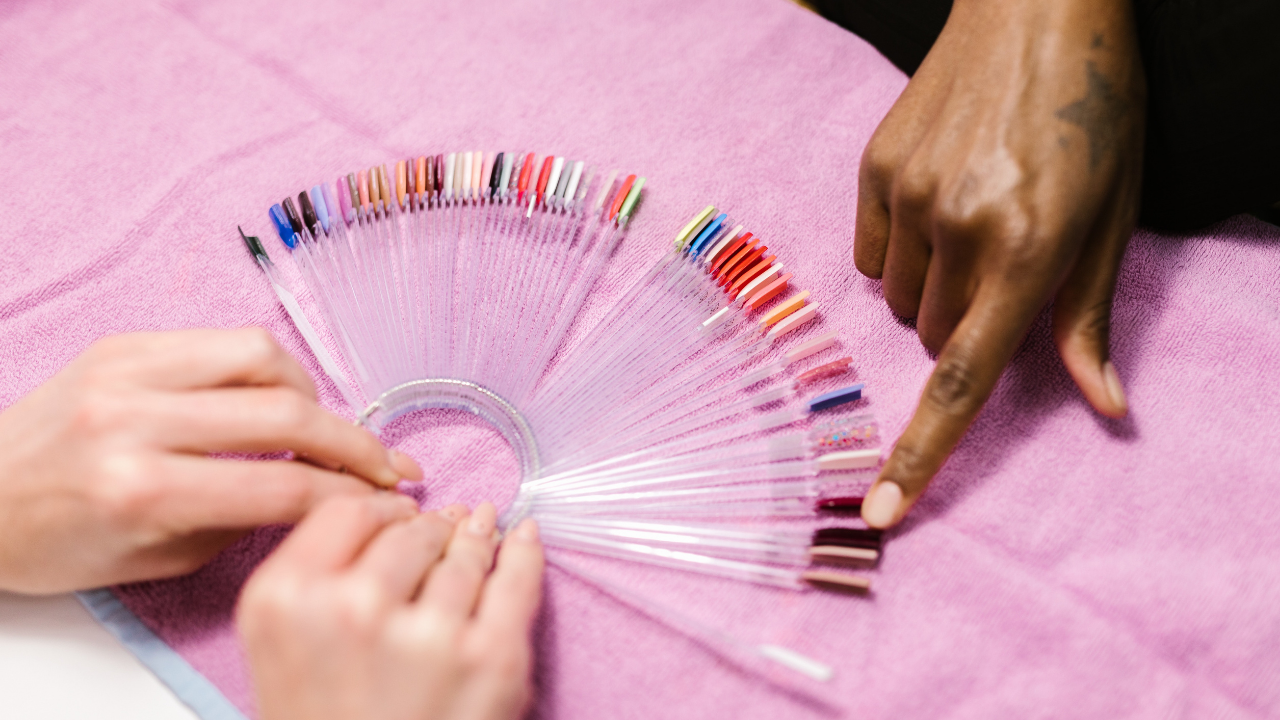 Hi Besties!
As we are all transitioning into our normal life, We all noticed our local salon is opening back up. Are you ready to go back to your go-to nail salon? It is okay to be a little nervous. After going through the pandemic, many of our lives have changed. Hygiene became a lot of people's priority when it comes to going out in a public place. As we all know, nail salons do reuse the nail polish bottle until they run out or when a nail polish goes bad. We all want everyone to support the local nail salon because they need it now more than ever. As much as some people love to DIY their nails at home, it does not apply to everyone. We encourage anyone who is going back to the salon to Bring Your Own Polish (BYOP)! Yes, you might think this is a little weird because you are paying to get your nail done. Well, keep reading to find out what are some benefits of DIYing your nails at home vs bringing your nail polish to the salon! Either way, we have all the latest affordable nail polish to even nail tools for you!
Bring Your Own Polish (BYOP) to the nail salon
Saves you time
Do you ever go into a nail salon and can't decide on which color you want  because there are too many options? That is probably the most difficult decision you have to make while being in the nail salon. You might look at all the colors you want to try but always end back to the color you typically reach for. Do you feel attacked by that statement? Yeah, we all have been there!  BYOP helps save time because you already have the color you want to wear. The nail tech can get started right away. The sooner you know your color the sooner you get to leave to get started on your day.
Hygiene
Great hygiene plays a big part because it is your own polish and you are not sharing it with anyone else. You do not have to worry about whether nail polish is sanitary to use or not. You might have never thought about sharing a nail polish is an issue but life after the pandemic changes many of us. Fungus on hands and toes are a thing! If you or anyone you know are experiencing fungus on their hands or feet, here is a product to help solve that issue.
NAIL TEK MAXIMUM STRENGTH ANTIFUNGAL
Don't forget to bring hand sanitizers with you! Nail Salon is required to keep their place clean but we can never be too careful. We have a variety of hand sanitizer products available. We also have small bottles which are great to carry in your pocket or purse when you are out and about.


Get the color + brand you want
Although when you first enter the salon, they show you all the nail swatches that they have. You may think it will look the same on you but it can be slightly different. It is not a secret that every nail polish can slightly look different because nail polish is made in batches. You want to find the perfect color to fit well with not just the season at times but also your skin tone. Your local nail salon might not have all the colors you are looking for.
At Beyond Polish, we get the latest nail polish colors and collections including indie brand nail polish that you might not find at your local nail salon. Nail salons do not carry every single nail polish brand, especially indie nail polish. They carry more professional nail polish brands. We are expanding our variety to give our customers more options to choose from. We do not want you to be limited to what polish you can bring. We have popular professional nail polish brands like OPI, CND, and DND! We are sure you have heard of these amazing professional nail polish brands.
When you are in a nail salon, you are limited to professional nail polish brands. This does not always cater to everyone's requirements. Some do not mind wearing classic nail polish brands like OPI nail polish, Essie, Orly, and the classic CND. Well, other people prefer certain requirements such as non-toxic nail polish, vegan nail polish, and let's not forget about cruelty-free nail polish. Yes! This is the biggest advantage if you were to bring your own nail polish. You would be able you use the indie nail polish brand you want and support the indie nail polish brands that salons do not carry! Here at Beyond Polish, we branched out to many indie nail polish brands such as NCLA Beauty, Orosa Beauty, Cirque Colors, People of Color Beauty, and many more!
Let us know down in the comments below which indie nail polish brand you would like us to carry next! 
Save your salon money
More than ever, salons want to find a way to save some money. If you do bring in your own polish, this will help them out because you are not using their products. You are using your own nail polish color. Bringing in your own polish is one way of helping them save some money during this time.
DIY Nails at home
Let's be real! We know that manicures and pedicures can get a bit costly when you go to the nail salon every few weeks to every month. They can range from $50 to even $150. If you want to treat yourself, then we are here for it. We'd also love to help you all save some money by DIY your nails at home. Shopping with us gives you the benefit of purchasing the same professional nail polish that your local salon uses. Our professional nail polish ranges from $1 to $27. Yes, it is cheaper than getting that one-time manicure and pedicure! If you want to save money, we encourage you to purchase our bundle sets. Our bundle sets are great for beginners or even if you are a pro! It gives you all the polish you need to create the perfect manicure and pedicure at home.
We want you to have the best quality products to create that manicure and pedicure at home. Although you might think the lamps are a bit pricey and you can purchase a cheaper alternative on amazon, quality is important to have a long-lasting manicure. We get a lot of questions about why DIY gel manicures and pedicures don't last very long compared one that's performed at a salon. The answer...cheap lamps and lack of prepping the nails. Invest your money on good tools if you want long-lasting results. Doing your nail at home isn't too bad. You get to shop with us all in one place. We also ship to you so you do not have to leave your home. We have all the nail polish you need and even nail tools! Yes, if you enjoy nail art we got you! We have nail art brushes to even cute stickers. If you are looking for tools to create your DIY manicure and pedicure at home, we have a category for you.
If you need the latest nail polish collection then shopping with us is the perfect place! We are all about the latest collections from professional nail polish brands to even indie nail polish brands. Here are some latest nail polish collections that just arrived. 
After reading the difference between DIY your nails at home and bringing your own nail polish to the salon which one do you end up preferring to do? Did we change your mind about anything?
Beyond Polish Perks!
Since you already love shopping with us, don't forget to sign up for our FREE reward program. Our Reward Shop has many products and discounts for you to claim your hard-earned points! Why not sign up? It does not cost you anything.
Do you have a friend that loves nail polish as much as we do? Refer them! We do have a Refer-A-Friend program! You and your friend can get $5. That is basically a free nail polish!
Don't forget to download our app! We currently have an exclusive promo going on for all our app lovers out there. Whether you are shopping with us online or on the app, your experience is always important. On the app, it is just easier. Oh!  We also love to do early access on the app only. Download now and stop missing out.
We want to make your payments a lot easier! Afterpay is available on our site and app! 4 easy payments without interest. Want to learn more?
Tags: DIY