ella+mila: 17-Free, Long-Lasting Color
1 comment
Posted on September 05 2018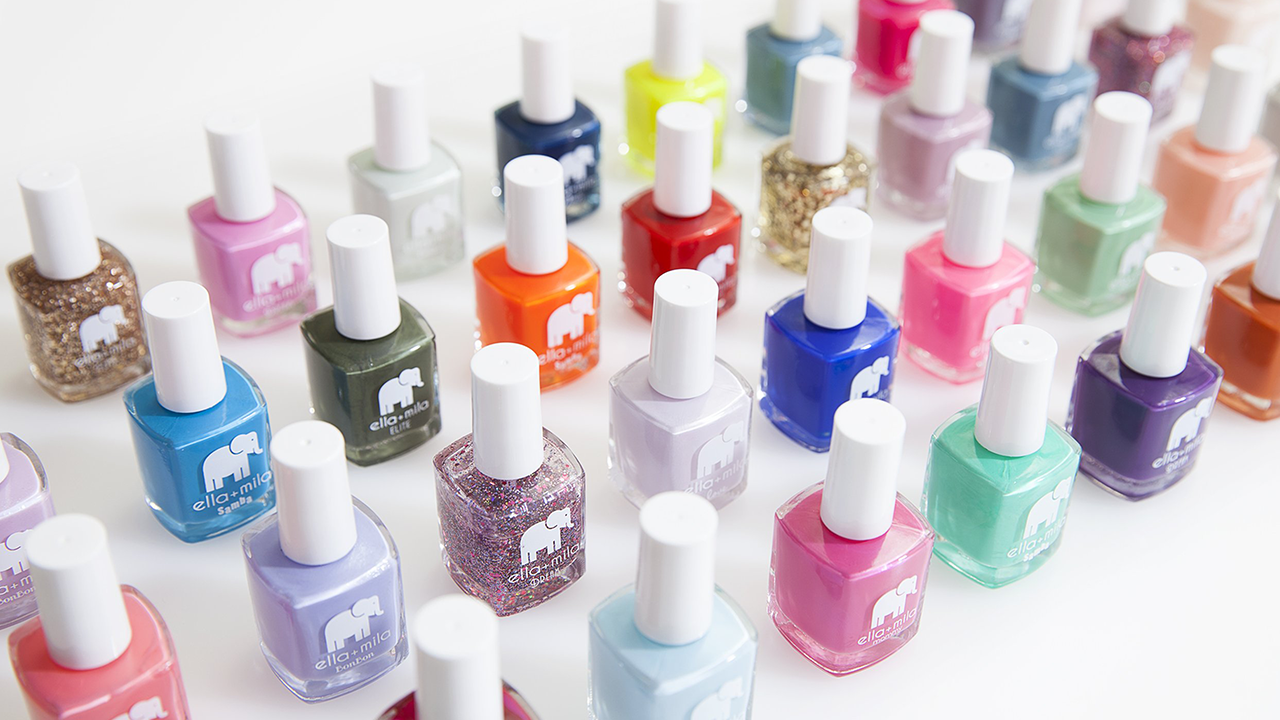 Born from the concept of creating an eco-friendly yet high-end product, ella+mila has become an increasingly popular brand in the beauty industry. Inspired by the twin daughters (named Ella and Mila) of one of the founders, this brand has become one of the most sought-after nail polishes. With new collections launching every couple of months, ella+mila promises trendy, high-fashion shades to their consumers. 
ella+mila has recently started expanding their product line into cosmetics. In June 2017, they launched a line of 10 liquid lipsticks, all enriched with Vitamin E and a refreshing mint scent to keep your lips moisturized and feeling fresh all day.
The driving force behind ella+mila is passion. The founders continue to strive for fashion-forward beauty products without compromise. These are just some of the benefits:
Chip-resistent
Dries quickly
Provides high-shine
17-free; contains no Toluene, Dibutyl Phthalate (DBP), Formaldehyde, Triphenyl Phosphate (TPHP), Xylene, or Camphor. See below.
PETA-certified
It doesn't stop there. ella+mila's lipsticks are also vegan, cruelty-free, and don't contain the following: Paraben, Phthalates, Lanolin, or Gluten. All products are made in the USA.
What is 17-free?
ella+mila is free of 17 toxic chemicals, including: Acetone, Bisphenol-A, Camphor, Ethyl Tosylamide, Formaldehyde, Formaldehyde Resin, Gluten, Glycol Ether of Series E (Glycol ethers derived from ethylene oxide), Nonylphenol Ethoxylate, Parabens, Phthalates (including DBP), Styrene Sulfate, Toulene, and Triphenyl.
What are these chemicals and why are they harmful?
Acetone: a chemical used to make products like nail polish remover and paint remover. 
Bisphenol-A: Also known as BPA, it's an industrial chemical that's used to make certain plastics and resins.
Camphor is a waxy, flammable, white or transparent solid with a strong aroma. It acts as a cover on your nails, depriving them of nutrients and causing them to yellow.
Ethyl Tosylamide: a chemical used in nail polish to help increase duration and wear.
Formaldehyde is commonly used to preserve and embalm dead animals and humans. Inhaling Formaldehyde for extended periods of time can trigger asthma. It's also known to cause cancer.
Formaldehyde Resin is a derivative of Formaldehyde, mainly used in the production of coatings and adhesives. While it's not as toxic as Formaldehyde, it can still be an allergen.
Gluten: naturally found in certain cereal grains such as wheat, barley, and rye. Those who have celiac disease, gluten triggers an immune response lining of the small intestine which can lead to health problems including osteoporosis, infertility, nerve damage and seizures.
Glycol Ether of Series E: Glycol ethers are a family of chemicals with key solvents; typically used in cleaning applications, paints, and hydraulic brake fluid.
Lanolin: a wax secreted by the sebaceous glands of wood-bearing animals. 
Nonylphenol Ethoxylate: Commonly used in clothing, paint/stain removers, surface/drain cleaners, indoor pesticides, food packaging & footwear. Potential health effects include skin/eye irritation, reproductive harm, birth defects and hormone disruption.
Parabens: a group of chemicals widely used as artificial preservatives in cosmetic and body care products since the 1920s. Health effects include reproductive harm, an increased risk of cancer, and birth defects. Commonly used in shampoos/conditioners, shaving gels, toothpastes, and makeup.
Phthalates (including DBPs) is an organic compound commonly used in plasticizer. In November 2006, it was added to the California Proposition 65. Dibutyl Phthalate is known to cause birth defects.
Styrene Sulfate: a group of medications used to treat high blood potassium; also used to remove potassium, calcium, and sodium, from solutions in technical applications. 
Toluene is colorless, water-soluble, and has a smell associated with paint thinners. Inhaling this chemical in low to moderate levels can cause tiredness, confusion, weakness, and nausea. Prolonged exposure can cause serious neurological harm.
Triphenyl Phosphate (TPHP) is used in plastics to improve flexibility. It also acts as a flame retardant. Studies have proven that it can affect your hormones and reproductive health.
Xylene: primarily used as a solvent in the printing, rubber, and leather industries. It's also used as a cleaning agent and a thinner in paint and varnishes.
Animal-Derived Ingredients
As of right now, it's not guaranteed that nail polish can be made entirely with organic ingredients. However, ella+mila does their best to ensure their products are eco-friendly because safety is their number one priority!
Check out this tutorial on how to achieve the perfect manicure using ella+mila.
Video by ella+mila via YouTube
Shop the ella+mila collection here!
Tags: Collections , Ella+Mila , Nail Lacquer ,