How to Apply Kiara Sky Gelly Tips
2 comments
Posted on October 06 2021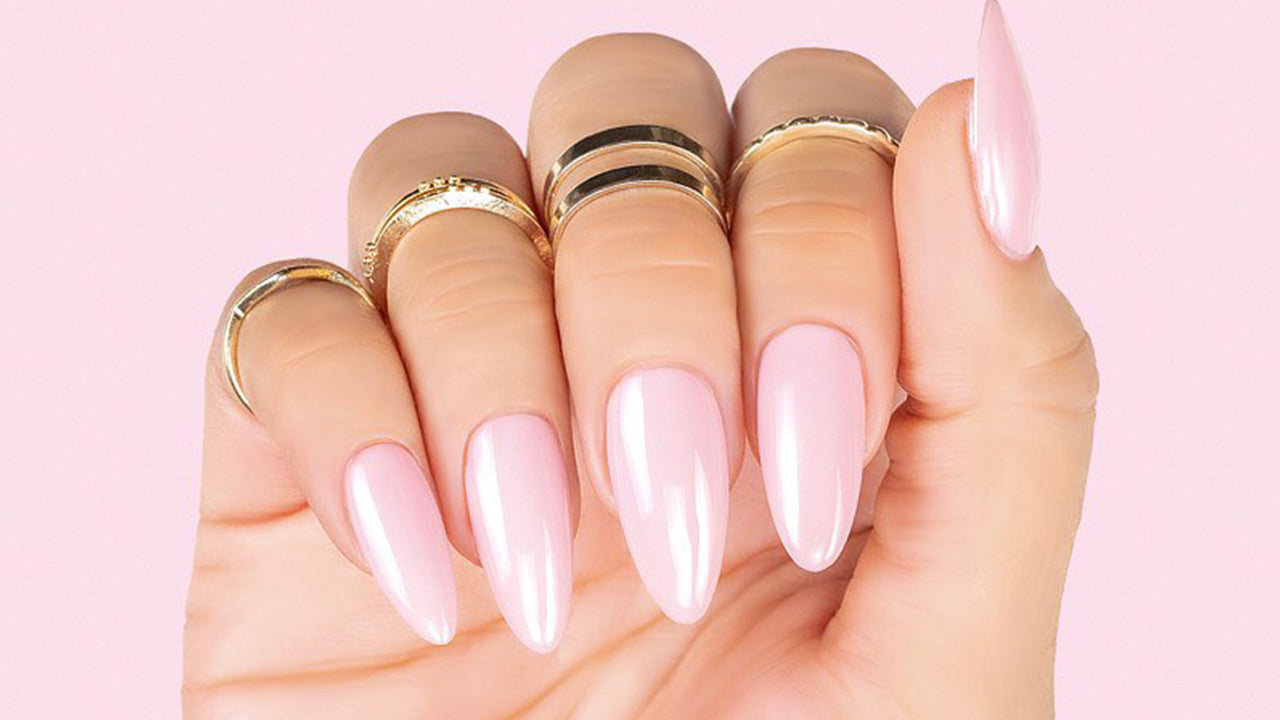 Seeing as many of us are still doing our nails at home, you should definitely take advantage of our wide range of nail extensions and tips so you can achieve the perfect salon-quality manicure without ever leaving your house! We recently added the Kiara Sky Gelly Tips to our collection of nail extensions and we're excited to tell you more about these and how to use them.
Kiara Sky Gelly Tips are made of softgel and are light weight, strong, and perfectly sculpted in five different shapes, incuding medium coffin, long coffin, medium almond, medium stiletto, and medium square. The best part is that they last up to 3 weeks without lifting or chipping! Now let's learn how to apply them!
How to Apply Kiara Sky Gelly Tips
NAIL PREP
As always, the key to a long-lasting manicure (besides a good top and base coat, of course), is to make sure your nails are properly prepped. Begin by pushing back the cuticles and removing the shine from your nail beds using a file. Be sure to focus on the cuticles and edges of the nails.
APPLICATION
Apply one coat of the Kiara Sky Prep that comes with the Gelly Tips Kit to dehydrate your nails and remove any oils. 
Once you've done that, you'll apply the Prime-Time Primer (another essential steps to making your Gelly Tips last). Apply one coat to your natural nails. This will help bond your nails to the tips to make sure they stay on as long as possible!
Next, apply a thin layer of Builder to your natural nails. This is what will help keep the tips on your nails for up to 3 weeks. It's also easy to remove with acetone. 
CURE
After applying the builder gel, cure your nails under an LED lamp for 30 seconds (It's highly recommended that you use the Flash Cure Mini LED lamp that comes with the kit to yield the best results). If you want to speed up the process, use the Kiara Sky Beyond Pro lamp to cure all your nails at once. 
APPLY BUILDER UNDER GELLY TIP
Using the same Builder you used before, you're now going to apply it under the Gelly Tip. Make sure you apply this only to the area of the tip that will come in contact with your natural nail. 
To apply the extension to your natural nail, simply press the Gelly Tip with your thumb from cuticle to free edge firmly, making sure to remove any air bubbles. (leaving any air bubbles could cause your extensions to pop off prematurely). 
CURE FOR 10 SECONDS
Once you've applied the extensions to all your nails, cure them for 10 seconds. The Flash Cure Mini LED lamp is perfect for salon use and great for those doing their nails at home. 
Once you've cured your thumb, remove and cure the rest of your nails for an additional 30 seconds.
APPLY GEL POLISH
Once your Gelly Tips are cured, you can either stop here, or you can add a little color with your favorite gel polish shade. If you'll be applying color, there are a couple of steps you have to do first. 
Remove the shine from the surface of your Gelly Tips using a file. Then, apply a coat of your gel polish and cure for 30 seconds (cure for another 30 seconds between coats if you apply more than one). 
Now it's time to seal your mani! Use the Gelly Top Coat and apply a thin layer to all your nails. Cure for 60 seconds. And that's it! You now have a gorgeous, effortless look without having stepped foot in a salon. Shop more nail extensions and essentials below!
Which color(s) are you most excited for in this collection? Do you like this "new neutral" nail trend, or do you prefer to stick to the classics? Let us know in the comments below! As always, if you try any of these colors, share your photos with us on Instagram and Facebook by tagging us @beyondpolish and use the hashtag #PolishWithBeyond. You might get featured!



Want early access to upcoming collections and exclusive discounts? Download our mobile app! Enjoy an easy & seamless shopping experience right from the palm of your hand. Join our text club to stay up to date on the latest from us! You'll be the first to know about upcoming sales and promotions. Want to become a VIP member? Join our FREE Rewards Program and start earning points for your purchases! Points may be redeemed for special discounts or free products! Enjoy more benefits when you join today! Like shopping with us? Tell your friends! We'll give them $10 off their first order and give YOU $10 for every successful referral! Shopping has never been easier thanks to Afterpay! Pay for your order in 4 easy, interest-free installments. 
Tags: Beginner , DIY , DIY Gel , Intermediate , Kiara Sky , Nail Extensions , Nail Trends ,