Introducing Madam Glam Gel Polishes
2 comments
Posted on April 11 2022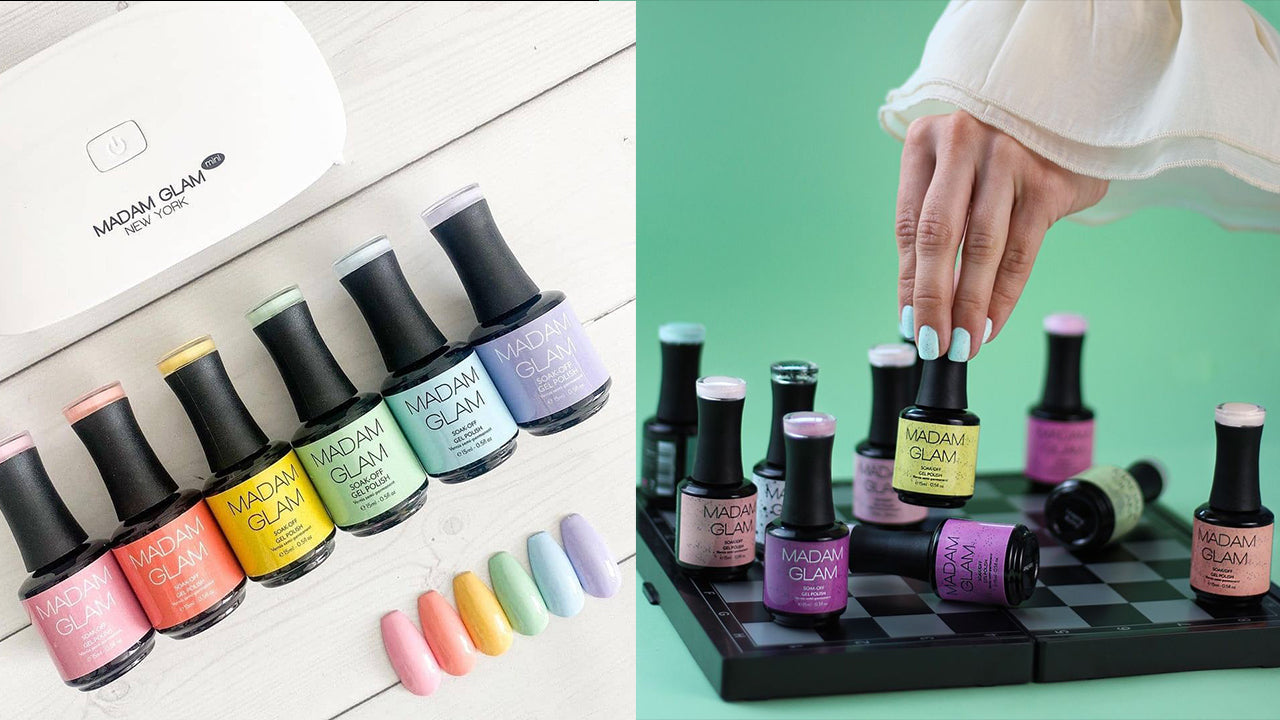 Beyond Polish is proud to welcome Madam Glam to the family! Madam Glam offers certified vegan gel polish that's also 21-free and gluten free! They offer more than 1,000 gel colors and 800+ nail polish shades, with new colors launching every month.
Madam Glam was founded with one objective in mind: to create salon-quality, carefully sourced nail and gel polishes. They made a commitment to never compromise when it came to clean beauty products. Ready to check it out?
A mid-toned seafoam green like this color is perfect for spring and summer. Complete your look with this little pop of color.
If you love subtle neutral colors, then you have to try this gorgeous dusty mauve shade. You can never go wrong with keeping it simple.
Shimmery nail colors are always on trend. If you're looking to make a statement with your mani, a color like this is perfect because you get a different look depending on which angle the light hits your nails. 
A classic red. Whether you're spending a night out on the town or simply updating your mani for everyday wear, a timeless color like this works during any season, any time of the year. 
The NEW Peel Off Base Coat guarantees increased durability and smooth peeling. Simply apply before your gel and peel it off when you're done. No more soaking your gel nails (or that stubborn glitter polish that's difficult to remove). NOTE: Applying the Peel Off Base Coat affects the longevity of your gel manicure. If you want to get your full 3 weeks of wear, we do not recommend adding the Peel Off Base Coat before your gel. 
Long gone are the days where you'd have to wipe your nails off with acetone after curing your gel polish. This no-wipe top coat does not leave behind the sticky residue and is guaranteed to make your life easier. 
We are so excited to bring on Madam Glam and hope you will give it a try! Let us know what you think in the comments. As always, if you try out any of the Madam Glam colors, be sure to share your photos with us on Instagram and Facebook by tagging us @beyondpolish and use the hashtag #PolishWithBeyond. You might get featured!
Want early access to upcoming collections and exclusive discounts? Download our 
mobile app
! Enjoy an easy & seamless shopping experience right from the palm of your hand. Join our 
text club
 to stay up to date on the latest news from us! You'll be the first to know about any upcoming sales or promotions. Want to become a VIP member? Join our FREE 
Rewards Program
 and start earning points for your purchases! Points may be redeemed for special discounts or free products! Like shopping with us? 
Tell your friends
! We'll give them $10 off their first purchase and give YOU $10 for every successful referral. Shopping has never been easier thanks to 
Afterpay
! Shop now and pay for your order in 4 easy, interest-free installments. The best part is that there are no additional delays in getting your order! 
Tags: Collections , Madam Glam ,