Madam Glam Wanderlust: The Perfect Jewel Tones For Fall
0 comments
Posted on September 19 2022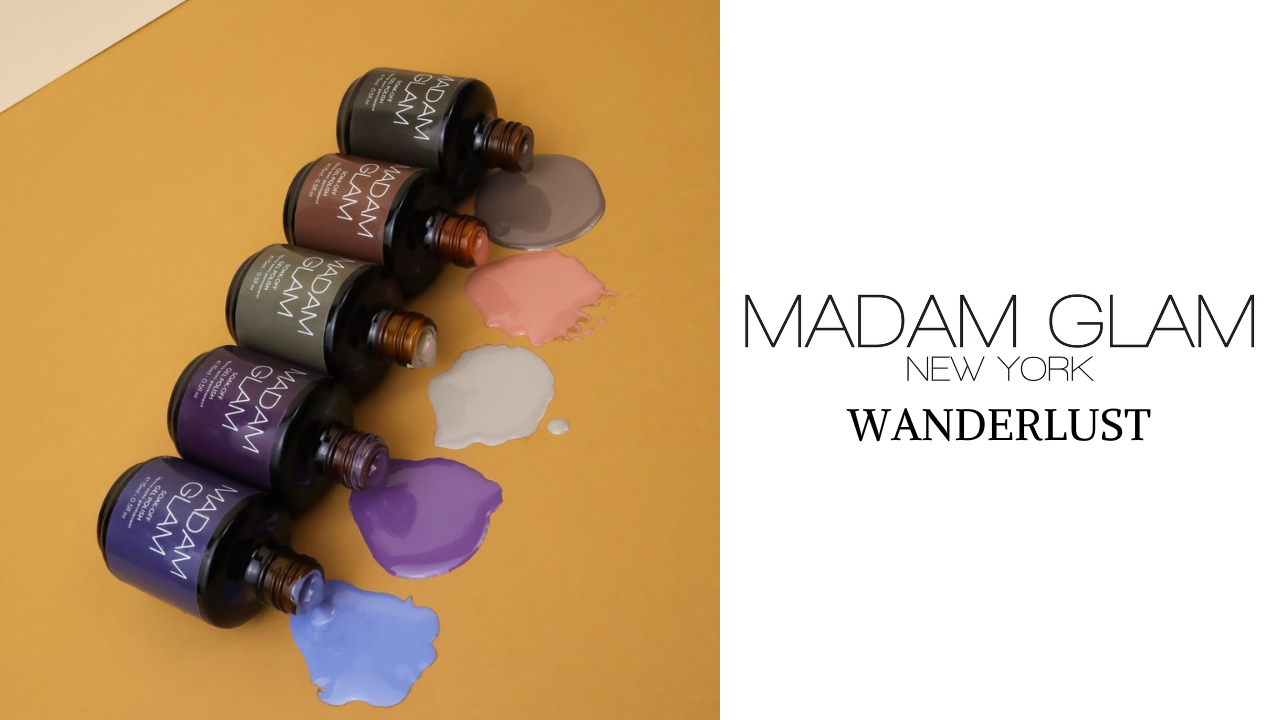 This holiday season, Madam Glam has the perfect jewel tones in their new Wanderlust Collection. The collection includes your traditional rich jewel tones, along with some soft neutrals so there is a little bit of something for everyone. Madam Glam offers amazing pigmentation, perfect coverage, and a long-lasting formula that offers up to 4 weeks of wear! On top of that, their formulas are vegan, cruelty-free & 21-free. Now, let's take a closer look at the collection!
Madam Glam Wanderlust
This color can be described as a smoky dark pink creme. Two coats offer full coverage and will give your nails a moody look this fall.
This color can be described as a rich navy blue. Create a sophisticated fall look with this color. 
This color can be described as a dark brown creme. It's the perfect neutral for the fall season and will pair well with any look!
This color can be described as a mid-toned beige. If you're going for a minimalist look this fall season, this is your shade. 
This color can be described as a deep moss green. This color will be especially popular during the holiday season, but if you're looking for something different than your traditional burgundy, this is a great option!
This color can be described as a grey-leaning taupe creme. Cozy up with this shade during the fall and winter seasons. 
This color can be described as a deep amethyst creme that'll become your prettiest fall accessory this season. 
This color can be described as a burnt orange creme that's also especially popular during the fall season. 
As always, we'd love to see your photos. Share your #nailfies with us on Facebook and Instagram by tagging us @beyondpolish and use the hashtag #PolishWithBeyond. 
Want early access to upcoming collections and exclusive discounts? Download our mobile app! Enjoy an easy & seamless shopping experience right from the palm of your hand. Join our text club to stay up to date on the latest news from us! You'll be the first to know about any upcoming sales or promotions. Want to become a VIP member? Join our FREE Rewards Program and start earning points for your purchases! Points may be redeemed for special discounts or free products! Like shopping with us? Tell your friends! We'll give them $10 off their first purchase and give YOU $10 for every successful referral. Shopping has never been easier thanks to Afterpay! Shop now and pay for your order in 4 easy, interest-free installments. The best part is that there are no additional delays in getting your order. 
Tags: Collections , Madam Glam ,