5 Matte Manicures You Need To Try This Fall
2 comments
Posted on September 09 2022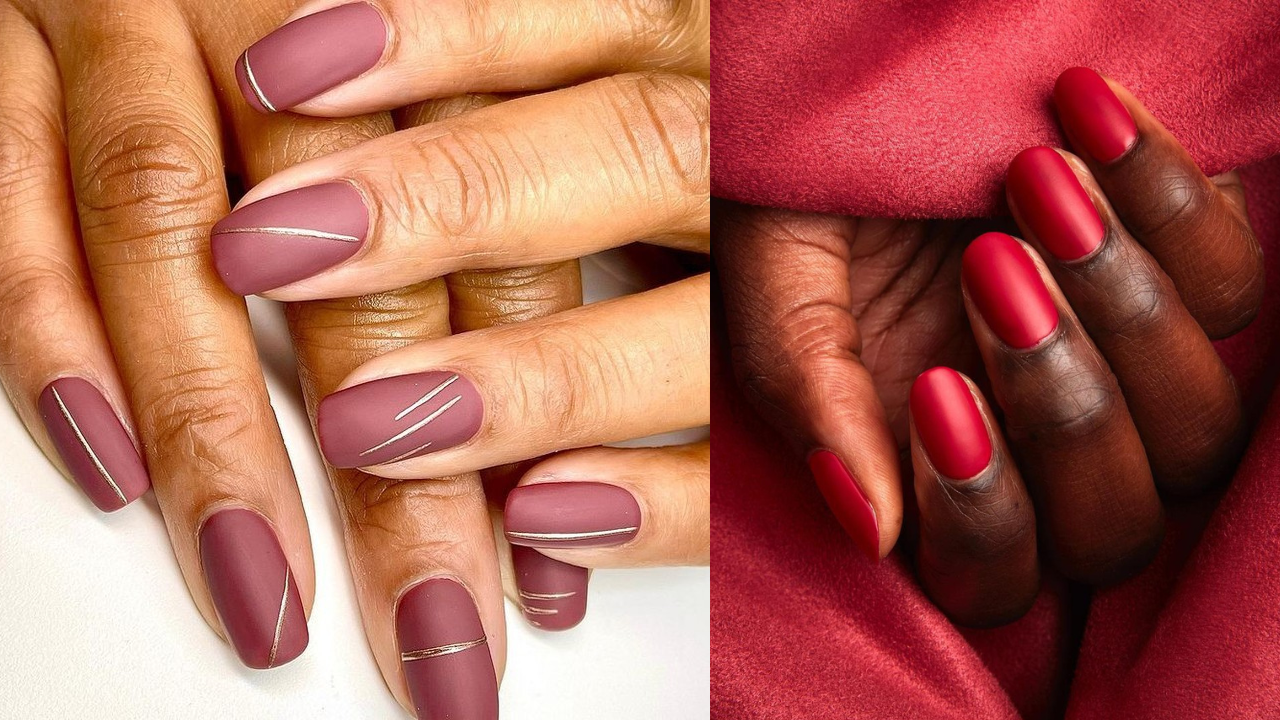 As we begin to move into the cooler seasons, matte nails are in. We're here to show you some inspo for your next fall manicure with these cute and easy DIY designs that you can do right at home! While you're at it, be sure to check out our matte top coats.


Minimalist

Photo from CND
This design by @neosole1 is great for fall & winter and it's super easy to recreate. All you need is your favorite nail color, a shimmer polish and a thin liner brush. Here, she uses CND Shellac Married To Mauve as her base color.

Matte French Manicure


Photo by @disseynails
Want to make your classic French manicure a little more chic for fall? @disseynails uses OPI Lincoln Park After Dark as her base color and then uses a glossy and matte coat to top off this look. Try the new OPI Stay Matte Top Coat, which has a new and improved formula. Glossy tips are definitely in and we can't wait to see more!
Animal Print
If you like to be bold with your mani, try a matte animal print mani. @sephstonenails uses the Essie Gel Couture Matte Top Coat for this look.We carry the Essie Matte Coat.
Matte & Shimmer

@press_reset_nails created this cute shimmery and geometric nail art design. She uses ORLY's Persistent Memory as the base color. Then applied her matte top coat. Finally, she used Stop The Clock for the shimmery design. Both colors are from the ORLY Surrealist Fall 2022 Collection. 

Skittles Mani
Skittles manis are always in style, but we like to go matte during the fall season. @freshsetsbyritz created a skittles mani using fall colors. She topped it off with the Kupa Matte Top Coat. 

Do you love matte manicures? Share your favorite looks below. As always, we'd love to see your photos. Share your #nailfies with us on Facebook and Instagram by tagging us @beyondpolish and use the hashtag #PolishWithBeyond. 
Want early access to upcoming collections and exclusive discounts? Download our mobile app! Enjoy an easy & seamless shopping experience right from the palm of your hand. Join our text club to stay up to date on the latest news from us! You'll be the first to know about any upcoming sales or promotions. Want to become a VIP member? Join our FREE Rewards Program and start earning points for your purchases! Points may be redeemed for special discounts or free products! Like shopping with us? Tell your friends! We'll give them $10 off their first purchase and give YOU $10 for every successful referral. Shopping has never been easier thanks to Afterpay! Shop now and pay for your order in 4 easy, interest-free installments. The best part is that there are no additional delays in getting your order. 
Tags: Nail Trends