TRENDING NOW: The Mermaid Manicure
0 comments
Posted on June 04 2023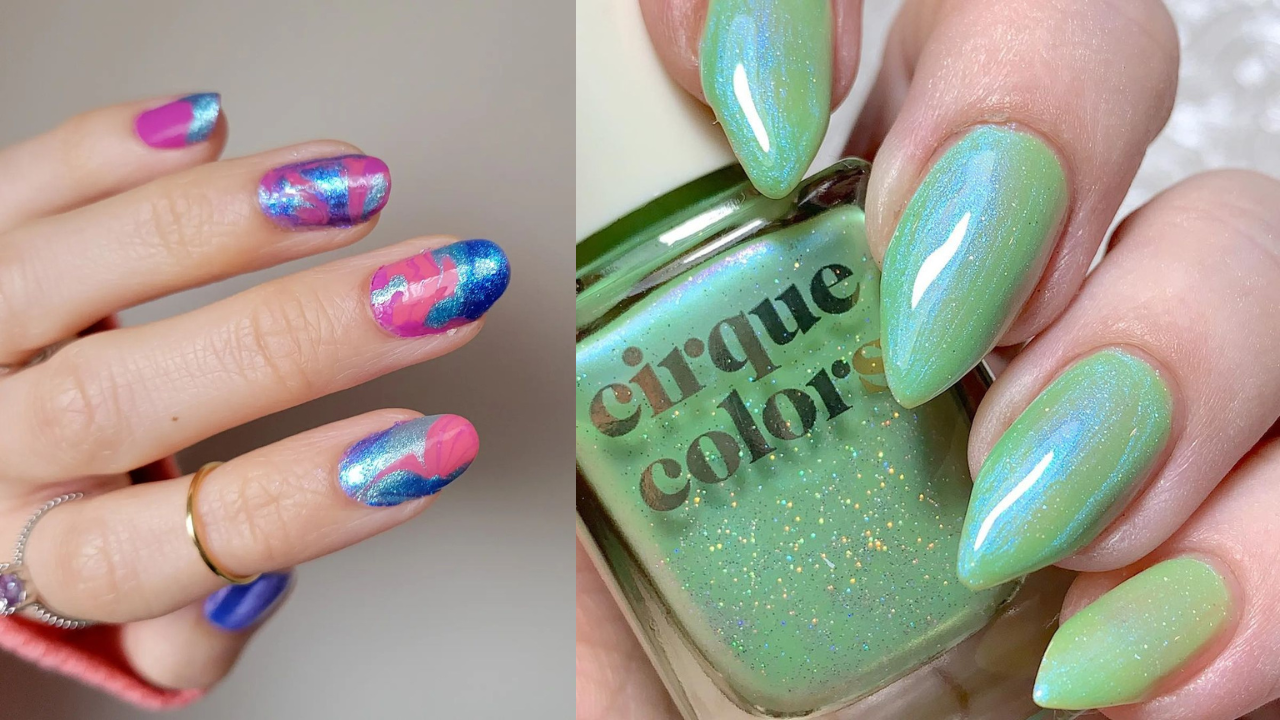 With the live-action remake of The Little Mermaid premiering very soon, we couldn't help but notice a "new" nail trend buzzing on social media. The "mermaidcore" aesthetic is on the rise, just in time for summer. According to Refinery29, this isn't a new concept. In 2021, mermaidcore followed in the footsteps of cottagecore, "tapping into our desire to travel again." The look itself is probably what you'd imagine....a lot of iridescent colors, pearls, and pastels.
Now, let's take a look at some nail inspo so you can find your next look!
Appropriately called "Mermaid Grotto", this new color from the Cirque Colors Surfer's Crush Collection is on point with this trend. The seafoam green color mixed with the iridescent effect screams mermaidcore. We absolutely love this color on Tara (@sunshineandpolish).


Cirque Colors - Mermaid Grotto
Now, it'd be a missed opportunity here if we didn't mention a color from the Splash Of Color Collection (which was inspired by "The Little Mermaid"). Here, Ana (@avmasnails) is wearing "Ride The Wave", which is a vibrant cerulean blue that has flecks of holographic sparkles.
Gelish - Ride The Wave
This dreamy mermaidcore-inspired nail art design by @ritaremark is a little more on the subtle side but it's all in the details. She created a cute seashell design using colors from Essie. Recreate the same look with the colors below!
Essie - Sugar Daddy
Peak Show
Essie - Feel The Fizzle
Create this gorgeous opal nail look using colors from the CND Shade Sense Spring 2023 Collection. Check out the video above for a step-by-step tutorial and get the look below:
CND Shellac - Shade Sense Spring 2023 Collection
CND LED Lamp - Version 2
CND Shellac - Base Coat
CND Shellac - No Wipe Top Coat
CND Over The Top Effects - Off The Chain
The DND DC Mermaid Collection has a variety of gorgeous, on-trend colors. These iridescent glitter holographic gel polishes will take your manicure to the next level this summer. Check out some of the colors from the collection below!
DND DC - Dark Aqua
DND DC - Purply Pink
DND DC - Ocean

If you've tried the "Mermaid Manicure", we want to see your nail art! Share your photos with us on Instagram or Facebook by tagging us @beyondpolish and use the hashtag #PolishWithBeyond. You might get featured! 
Want early access to upcoming collections and exclusive discounts? Download our mobile app! Enjoy an easy & seamless shopping experience right from the palm of your hand. Join our text club to stay up to date on the latest news from us! You'll be the first to know about any upcoming sales or promotions. Want to become a VIP member? Join our FREE Rewards Program and start earning points for your purchases! Points may be redeemed for special discounts or free products! Like shopping with us? Tell your friends! We'll give them $10 off their first purchase and give YOU $10 for every successful referral. Shopping has never been easier thanks to Afterpay! Shop now and pay for your order in 4 easy, interest-free installments. The best part is that there are no additional delays in getting your order. 
Tags: Nail Trends