OPI Malibu: Gorgeous Neutrals & Vibrant Perfect For Summer
0 comments
Posted on May 18 2021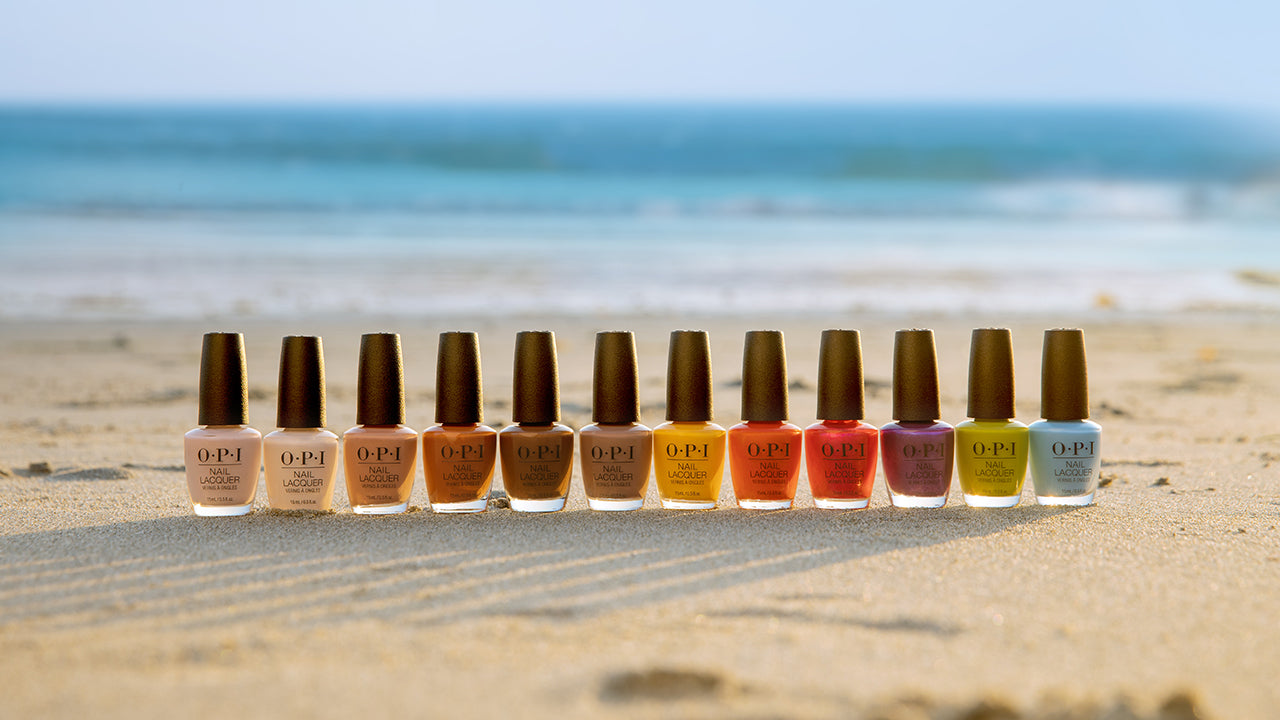 If you can't get enough of OPI, you're in luck! Introducing the new Malibu Summer 2021 Collection. Presented as a continuation from the Hollywood Collection, this one aims to transport consumers from the glitz and glamour of Tinsel Town to the iconic beaches of this popular California coastline. 
The collection includes twelve limited edition colors available in OPI Nail Lacquer, GelColor & Infinite Shine. When we say there's a color in this collection for everyone, we mean it. Six colors are neutrals, and the other six are bold summer colors. Let's take a closer look at the collection:
OPI Malibu Summer 2021 Collection:
From Dusk til Dune
(a soft neutral pink in a glitter/semi-opaque finish)
Coastal Sand-tuary
(an ivory creme in an opaque finish)
El Mat-adoring You
(a warm neutral creme in an opaque finish)
Endless Sun-ner
(a brown neutral creme with red undertones in an opaque finish)
Cliffside Karaoke
(a dark brown creme in an opaque finish)
Bonfire Serenade
(a dusty mauve creme in an opaque finish)
Marigolden Hour
(a warm yellow creme in an opaque finish)
PCH Love Song
( a vibrant orange shimmer in an opaque finish)
Strawberry Waves Forever
(a bright fuchsia pink shimmer in an opaque finish)
The Sound of Vibrance
( a bold violete shimmer in an opaque finish)
Pear-adise Cove
(a vibrant pear green creme in an opaque finish)
Mali-blue Shore
(a muted sky blue creme in an opaque finish)
Between the Hollywood and Malibu collections, OPI has given us plenty of colors to choose from this summer and we are definitely here for it! Whether you go for a simple, minimalistic neutral look or a vibrant, pigmented one, color your summer with OPI. 
Fun Fact: This collection was inspired by musician Selena Sloan and Celebrity Nail Artist Hang Nguyen. Selena is a multi-talented, French-Caribbean DJ, singer, and multiplatinum songwriter based in Los Angeles. If you're in the nail community like many of our BP fam, you've most likely heard of Hang (@thehangedit) before. Her work has been featured in Glamour and Instyle Magazine. Major nail brands recognize her as an industry leader in setting nail trends. Her celebrity clients have included Kate Hudson, Gabrielle Union, Mindy Kalling, & Isla Fisher.
Which color from the new Malibu collection is your fave? Drop it in the comments below! Don't forget to share your nailfies with us on Instagram and Facebook by tagging us @beyondpolish and use the hashtag #PolishWithBeyond. 
Want early access to upcoming collections (like this one!) and exclusive discounts? Download our mobile app and enjoy a quick, easy shopping experience. Join our text club to keep up with the latest news from us. Want to become a VIP member? Join our Rewards Program and create an account for FREE and start earning points for your purchases! Points may be redeemed for exclusive discounts or free products! 
Tags: Collections , OPI ,