ORLY Impressions: Create Art With 6 Spring Shades
0 comments
Posted on March 13 2022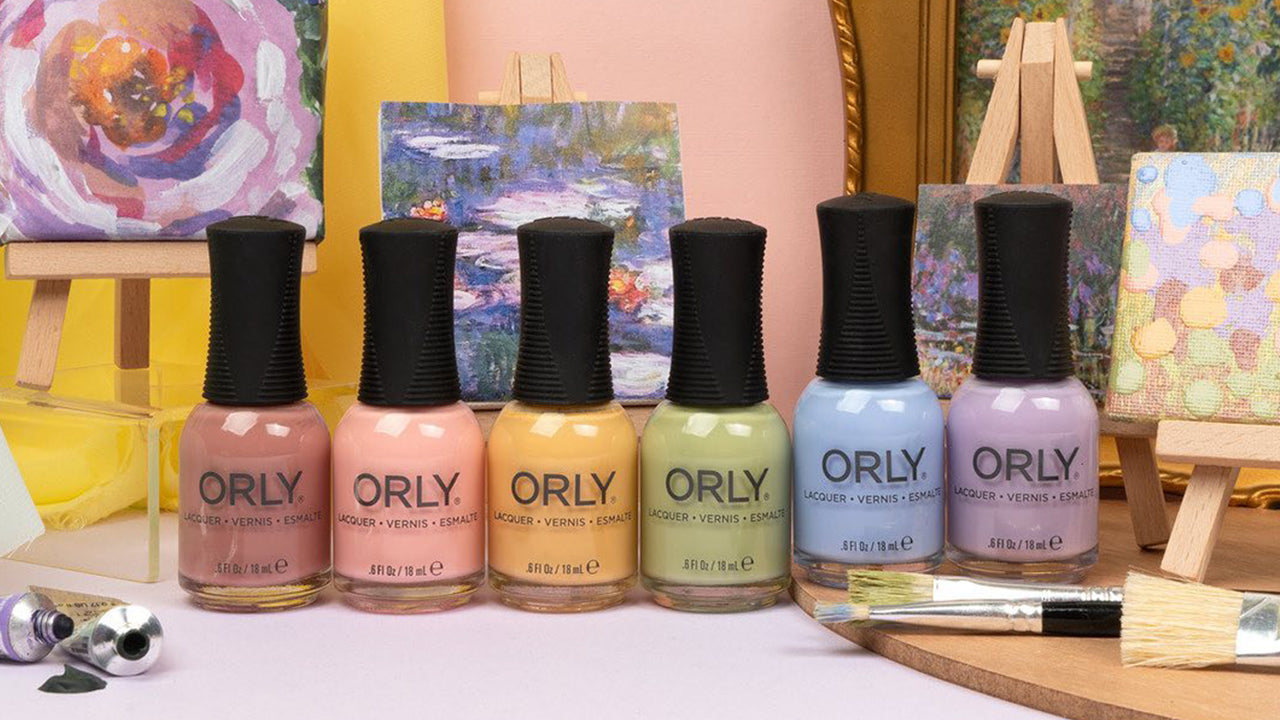 ORLY's spring 2022 Impressions Collection has arrived! Inspired by the Impressionist era, the colors in this collection evoke the beautiful art in gorgeous spring pastel cremes. This season, we're going back to the basics, so if you're a fan of pastel nail colors, this is the perfect collection for you! Let's take a closer look!
ORLY Impressions Spring 2022 Collection:
This soft, rosy brown creme shade is perfect for creating that barely-there look. It's classic, it's chic, and especially great for those on-the-go.
Create a dainty & delicate look with this gorgeous pastel peachy pink creme. This color will become your new go-to for an opaque soft pink manicure.
Capture the essence of spring with this pretty buttercream yellow creme. When we think of spring nail colors, we often think of a bright, cheery yellow. What's great about this shade is that it's not too bold, but still adds the perfect touch of color.
This pastel earthy green creme will become your new favorite spring nail color this season. Green continues to be one of the most popular spring nail colors. Inspired by the lush foliage in European gardens, create a gorgeous mani with this shade.
This pastel cornflower blue creme is the ultimate spring statement shade. Even though a shade like this is bright and colorful, it will still pair well with many spring looks. 
Inspired by the lavender fields of France, this lilac purple creme is the perfect spring pastel. 
What color(s) are you most excited for? Do you prefer the classic pastel nail colors for spring, or something different? Let us know in the comments below! As always, if you try and of the colors from the collection, share your #nailfies with us on Instagram and Facebook by tagging us @beyondpolish and use the hashtag #PolishWithBeyond. You might get featured!



Want early access to upcoming collections and exclusive discounts? Download our mobile app! Enjoy and easy & seamless shopping experience right from the palm of your hand. Join our text club to stay up to date on the latest news from us! You'll be the first to know about any upcoming sales or promotions. Want to become a VIP member? Join our FREE Rewards Program and start earning points for your purchases! Points may be redeemed for special discounts or free products! Like shopping with us? Tell your friends! We'll give them $10 off their first purchase and give YOU $10 for every successful referral. Shopping has never been easier thanks to Afterpay! Shop now and pay for your order in 4 easy, interest-free installments. The best part is that there are no additional delays in getting your order! 
Tags: Collections , ORLY ,