People Of Color Native Wellness: Find Clarity with 5 New Neutrals
0 comments
Posted on October 04 2021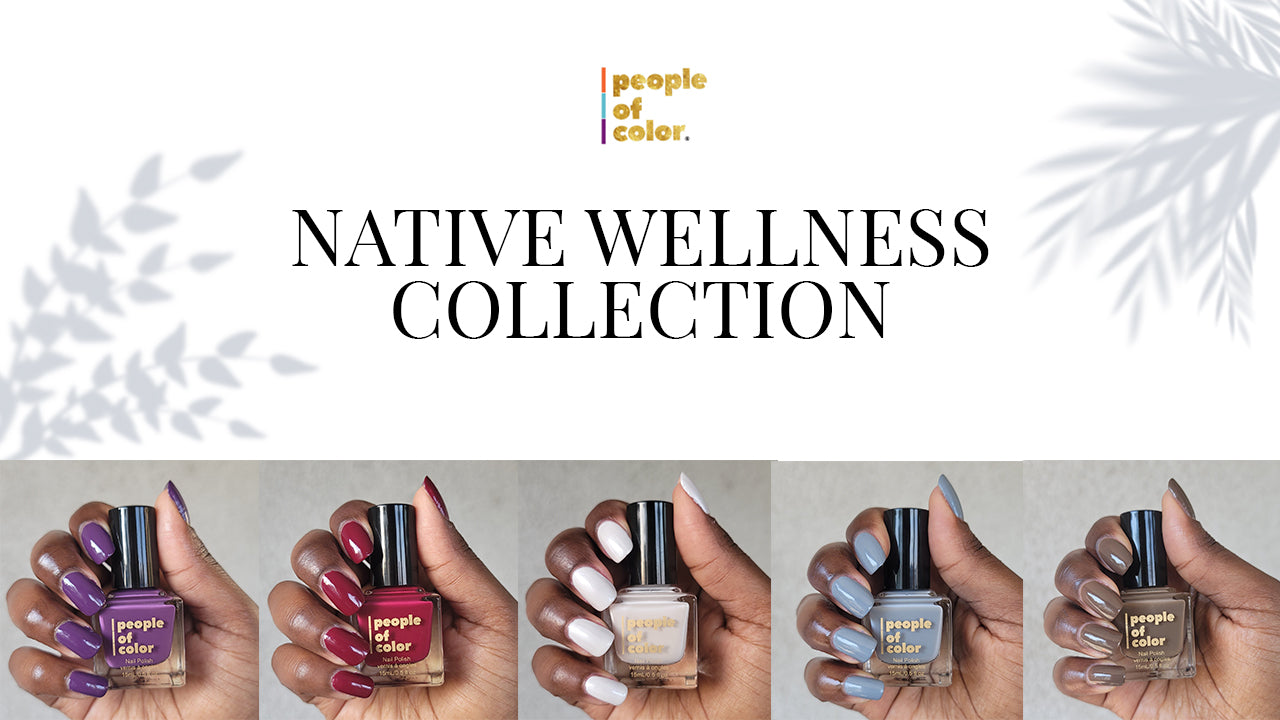 People Of Color is here with their new Fall 2021 Collection, Native Wellness. It includes 5 earthy tones that create a sense of relaxation and inner peace. As we continue to adjust to the "new normal" caused by the pandemic, it's important now (more than ever) to stop and take a breath. 
People Of Color is an independent nail polish brand that was created with an important goal in mind...to create nail colors suitable for brown skin tones. Their polish is made to complement various skin tones as a first thought, not an afterthought.
Another thing we love about People Of Color's collections, is that they are typically inspired by history. The Native Wellness collection was inspired by the various plants Native American tribes used to use for food, medicine, and other purposes. Let's check out the inspiration behind these gorgeous colors. Before we proceed, it's important to note that People Of Color provided the facts below for educational purposes only. It is advised that you seek a medical professional regarding the actual uses of the plants.
People Of Color Native Wellness Fall/Winter 2021
This color can be described as as a dusty grey. This shade was inspired by the white sage Native Americans used for food, healing, and ceremonial purposes. 
This color can be described as a rich berry red. This shade was inspired by sumac, which Native American tribes used it as a treatment for various things such as blisters, the common cold, sore throats and ulcers.
This color can be described as a vibrant mid-toned purple. The passionflower is native to the Southeastern United States and has also been used as a food source and medicine by Native Americans. For example, the Cherokee have used this plant to treat restlessness, anxiety and high blood pressure.
This color can be described as a pearly white. The Native Americans used the bark extract to cure diarrhea. The fruit was used to make jams, jellies and syrups. It was also used to remedy colds, tuberculosis and ulcers.
This color can be described as a mid-toned brown. The roots of this plant were used as medicine by Native Americans and Hispanic cultures to treat pneumonia, colds, bronchitis, influenza, tuberculosis hay fever, coughs and more.
Which color(s) are you most excited for in this collection? Do you like this "new neutral" nail trend, or do you prefer to stick to the classics? Let us know in the comments below! As always, if you try any of these colors, share your photos with us on Instagram and Facebook by tagging us @beyondpolish and use the hashtag #PolishWithBeyond. You might get featured!



Want early access to upcoming collections and exclusive discounts? Download our mobile app! Enjoy an easy & seamless shopping experience right from the palm of your hand. Join our text club to stay up to date on the latest from us! You'll be the first to know about upcoming sales and promotions. Want to become a VIP member? Join our FREE Rewards Program and start earning points for your purchases! Points may be redeemed for special discounts or free products! Enjoy more benefits when you join today! Like shopping with us? Tell your friends! We'll give them $10 off their first order and give YOU $10 for every successful referral! Shopping has never been easier thanks to Afterpay! Pay for your order in 4 easy, interest-free installments. 
Tags: Collections , People Of Color ,