16 Color-Block Nail Art Designs You Need To Try
0 comments
Posted on January 24 2019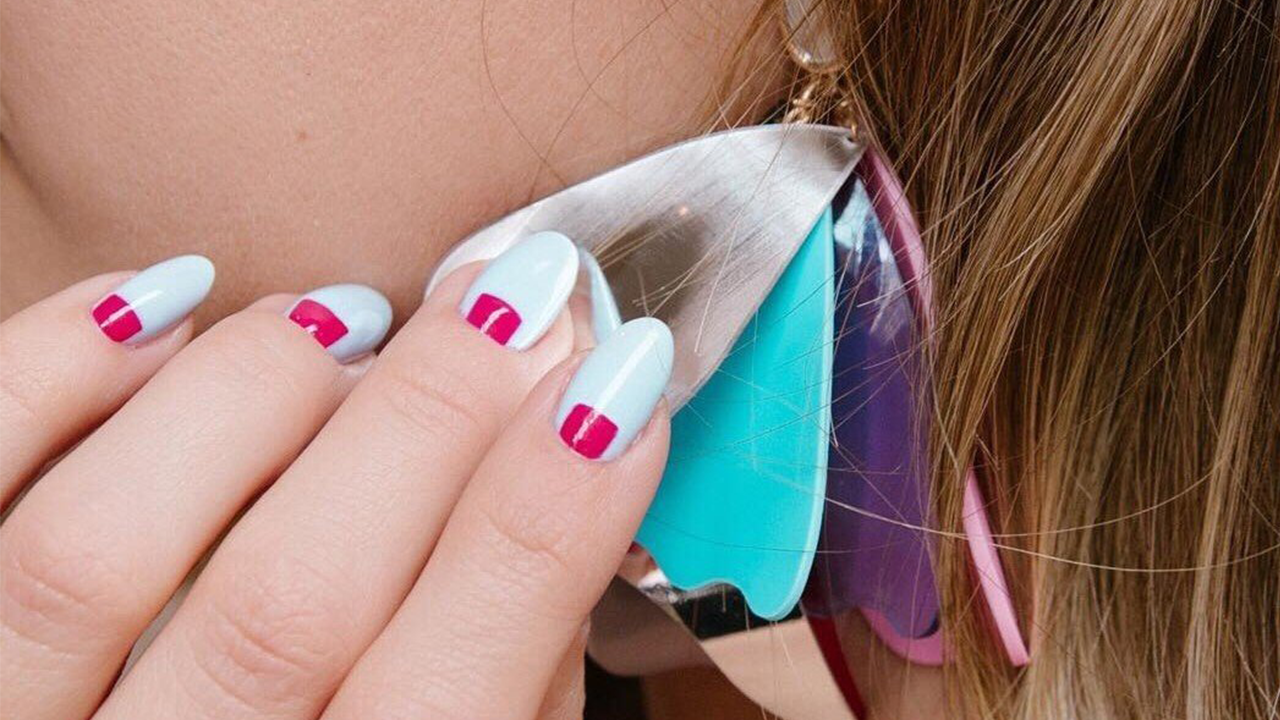 If you're having trouble settling on one color for that next manicure, why not try a few? Graphic, multi-colored nail art designs are blowing up on Instagram and taking nail salons by storm! We're here to show you some of the best color-block nail art designs we've found on Instagram.
1. @nailartbyqueenie
 Queenie perfectly pairs a glossy black with a shimmery purple polish to create nice accents in her nail art design.
Similar Colors: OPI Black Onyx & China Glaze Pick Me Up Purple
2. @karanailedit
Kara combines color block with a skittles mani, creating a unique look that's great for summer.
Similar Colors: Essie Yes I Canyon, Essie Lounge Lover, Essie Come Here & Essie Hay There
3. @gopolished
Laurie creates an 80's vibe design with her matte color block manicure.
Similar Colors: OPI Kanpai OPI!, OPI PUMP Up The Volume, OPI Alpine Snow, & OPI Ornament To Be Together
5. @nancymnieves93
Nancy proves less is more with her geometric color block mani with a matte finish.
Similar Colors: CND Shellac First Love, CND Shellac Black Pool, CND Matte Top Coat
6. @tonijberry
It's all in the details with Toni's color block manicure nail art design. She plays with different shapes and layering to create a unique look.
Similar Colors: CND Shellac Azure Wish, CND Shellac Mint Convertible, CND Shellac Cream Puff, CND Shellac Brimstone, CND Shellac Aura, CND Shellac Winter Nights, & CND Shellac Aqua-intance
7. @nailsbysarah1
Sarah created this simple color block nail design for Valentine's Day using only three colors.
Similar Colors: OPI Nail Lacquer Just Lanai-ing Around, Morgan Taylor I'm Charmed, & China Glaze Meet Me In The Mirage
8. @her_design_studio
Tarshan created her color block mani nail art design by using all triangle shapes. She also plays with negative space, creating a crisp, clean look.
Similar Colors: CND Shellac Black Pool, OPI GelColor Funny Bunny, OPI GelColor Bubble Bath, OPI GelColor Stay Off The Lawn!!, OPI GelColor Chills Are Multiplying!, OPI GelColor Sun, Sea, and Sand in My Pants, OPI GelColor Hurry-juku Get This Color
9. @nails_by_amber95
 Amber's mani was inspired by fall. Similar to Sarah's design, she used three polishes and layered them together to create the perfect color block nail art design.
Colors Used: OPI Nail Lacquer It's a Piazza Cake, Essie Gel Couture Spiked With Style, & China Glaze Swing Baby
10. @fingerfeast
@fingerfeasrt combines bright color blocks with fun glitter for a playful mani design. 
Similar Colors: OPI GelColor Glitter To My Heart, OPI GelColor No Tan Lines, OPI GelColor Can't Find My Czechbook, OPI GelColor Chopstix and Stones
11. @nailartbyamelia
Amelia uses different squares and rectanlges to create this color blog design. This was her first time doing color block nails and the results look great!
Similar Colors: IBD Just Gel Lucky Red, OPI GelColor Suzi's Slinging Mezcal, & Gelish My Yacht, My Rules!
12. @the.galactic.mermaid
It's all about the curves in this color block nail art design by @the.galactic.mermaid. She picks the perfect color combination, creating accents with the black and white polishes. 
Similar Colors: Harmony Gelish Black Shadow, IBD Just Gel Just LA-nding, CND Shellac Cap & Gown, Harmony Gelish Street Cred-ible, CND Shellac Boheme,  IBD Just Gel Polish Vacancy You Later, & Harmony Gelish Magic Within
13. @madronenails
Similar Colors: IBD Just Gel Polish Time Zoned Out, CND Shellac Cap & Gown, CND Shellac Cake Pop, OPI GelColor All About The Bows, & Harmony Gelish Sheek White
15. @nailsbyjanee
Jane uses a combination of different shapes and primary colors to create this abstract color block design. 
Similar Colors: OPI Nail Lacquer My Favorite Gal Pal, OPI Nail Lacquer Don't Tell A Sol, CND Vinylux Palm Deco, & OPI Nail Lacquer Coca-Cola Red
16. @kellyohstein
Kelly creates the ultimate color block mani, using a wide range of colors, from bright to muted. She plays with negative space and creates a color combination that somehow all works together.
Similar Colors: OPI Nail Lacquer Don't Tell A Sol, Essie Meet Me At Sunset, Essie Sunday Fun Day, OPI Nail Lacquer Dreams Need Clara-Fication, OPI Nail Lacquer Coral-ing Your Spirit Animal, ORLY Nail Lacquer Lilac You Mean It, CND Vinylux Denim Patch, OPI Nail Lacquer Alpine Snow, ORLY Lips Like Sugar
Tags: Gel Polish , Nail Art , Nail Lacquer , Nail Trends ,