Back To School Nail Trends
0 comments
Posted on August 18 2022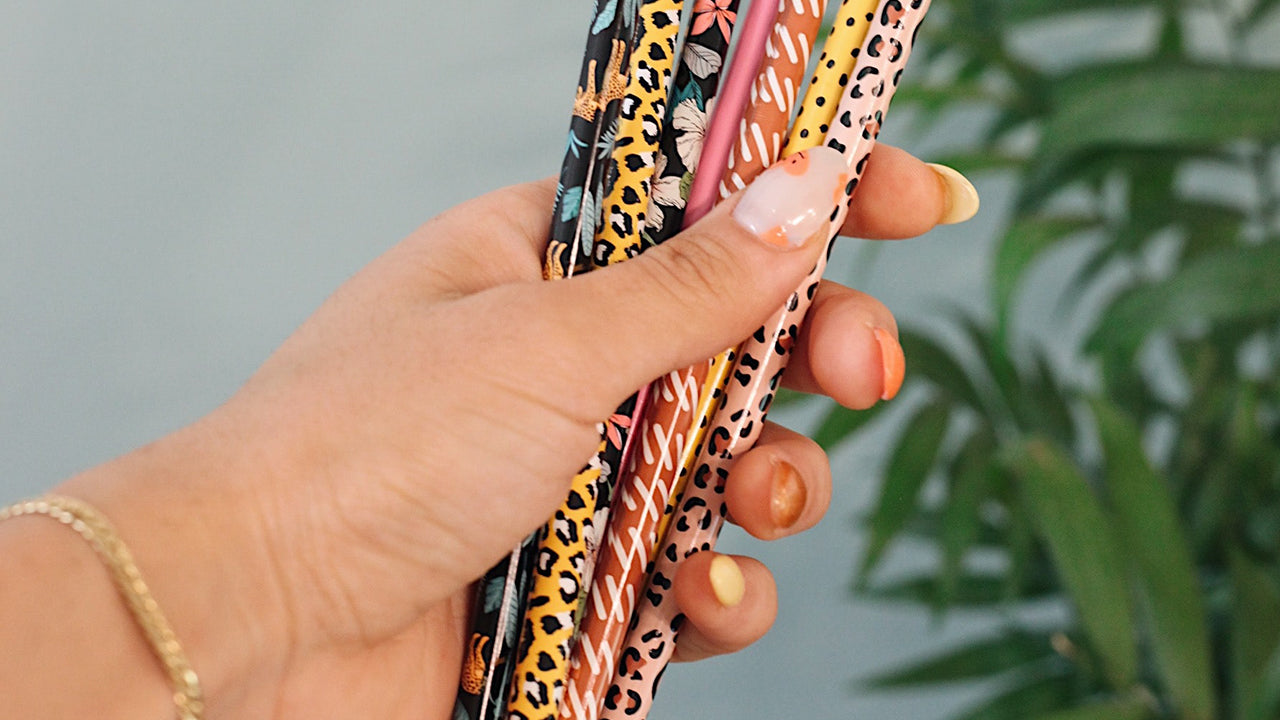 It's that time of year again. Many of you may be headed back to school and whether you're headed back to campus or continuing with online learning, you can still look and feel your best despite the circumstances! So we curated a special Back To School collection just for you filled with the hottest nail colors and essentials you need to make a great first impression. In need of some nail art inspo? Don't worry! We've got you covered. Let's check out some of these cute and easy DIY nail art designs that you can achieve right at home!

Back-To-School Nail Art Inspo

Credit: @polished.kids
Amelie from @polished.kids wears "Spring In Action" and "Cactus What You Preach" from the new OPI Nature Strong line. OPI Nature Strong is OPI's first natural-origin nail lacquer! It's vegan, made from all-natural ingredients, and safe for kids! We love Amelie's alternating mani topped with some gold glitter to create the perfect finish.

Credit: @lets.keep.shining
Ney uses colors from the OPI Malibu collection to create this cute geometric/floral nail art. She's wearing "Coastal Sand-tuary", "The Sound Of Vibrance" and "Pear-adise Cove". This is a perfect back-to-school nail art design, especially if you love working with a lot of color!

Credit: @twilldidmynails
Taylei creates this simple yet cute back-to-school manicure, using a classic red. We also love the accent nails, which tie in this design perfectly!

Credit: @tsibsnails
Sometimes we like to keep things simple and Shelbs created the perfect nail art design for all you minimalists! She used the colors OPI "Alpine Snow" and "Destined To Be A Legend" (from the OPI Hollywood Collection) for her look.

Credit: @nailsbymichelemuscell
You can never go wrong with a skittle mani! Michele uses colors from the CND Summer City Chic collection to create this easy & simple look. Why choose one color when you can have five?

Credit: @kiran.nails
Kiran creates a gradientFrench tip nail art design using some colors from the DND DC Mermaid Collection. Here, she's wearing Ocean, Sapphire Stone, Dark Aqua, Jade & Seaweed. We love this modern take on a classic nail design, and this is perfect for your back-to-school manicure.
Have some other inspo or ideas in mind? We'd love to see them! Share your photos with us on Instagram and Facebook by tagging us @beyondpolish and use the hashtag #PolishWithBeyond. You might get featured!
 
Back-To-School Essentials
After being home for over a year, we know that keeping your hands clean is very important. Stock up on those hand sanitizers! What is useful about our hand sanitizers is that we have pocket-size ones that'll fit perfectly in your pocket or backpack.
Due to the current circumstances, you may be using a lot of hand sanitizer throughout the day. As a result, your hands and cuticles may be extra dry.  Add a CND lotion and some cuticle oils to help hydrate those dry hands and cuticles.
Many of us are not comfortable with going to school without a mask yet, so keeping an extra pair in your backpack or bag would be handy.  Everly face masks are great because they are 100% cotton and great for anyone with sensitive skin. The mask is adjustable to anyone's size so it will not bother anyone's ears throughout the day.


Getting your nails ready for that first day back? Grab all the tools and essentials you need to create the perfect DIY manicure. We can't start a new school year without taming your nails. From our affordable nail nippers to our nail files, create your own salon-quality manicure in the comfort of your own home.
After taming your nails, it is only right to polish them. We added so many fall nail polish collections and also brands! We have brands from OPI, Essie, CND, and even indie nail polish! Yes, we have expanded our indie nail polish that you have seen on instagram. 
Not enough time to polish your nails or want a fast solution? Check out our variety of nail wraps for your next manicure! No wait times, no mess. You apply them on stickers. Easy as 1,2,3!
We can't go back to school without accessorizing! Our friends Etoi has one of the best accessories to rock! The rings will go amazing with your new fresh mani that you DIY at home. 
Don't forget to add some body care in your back to school shopping trip. We can't have you start the new year with crusty skin. Start hydrating your body with our latest body care.
Good luck on going back to school. Take a picture, tag us, and use the hashtag #PolishWithBeyond! We love to see your first day of school mani!
Looking for more back-to-school essentials? Shop the collection below! 
Want early access to upcoming collections and exclusive discounts? Download our
mobile app
! Enjoy an easy and seamless shopping experience right from the palm of your hand. Join our
text club
to stay up to date on the latest news from us. You'll be the first to know about upcoming sales and promotions. Want to become a VIP member? Join our FREE
Rewards Program
and enjoy exclusive perks. You'll earn points on your purchases, which may be redeemed for special discounts and free products! Like shopping with us?
Tell your friends!
We'll give the, $10 off their first order and we'll give YOU $10 for each successful referral. Shopping has never been easier thanks to
Afterpay
! Pay for your order in 4 easy, interest-free installments.
Tags: Beauty , Nail Art , Nail Trends ,