Behind the Scenes with @gopolished
1 comment
Posted on March 05 2020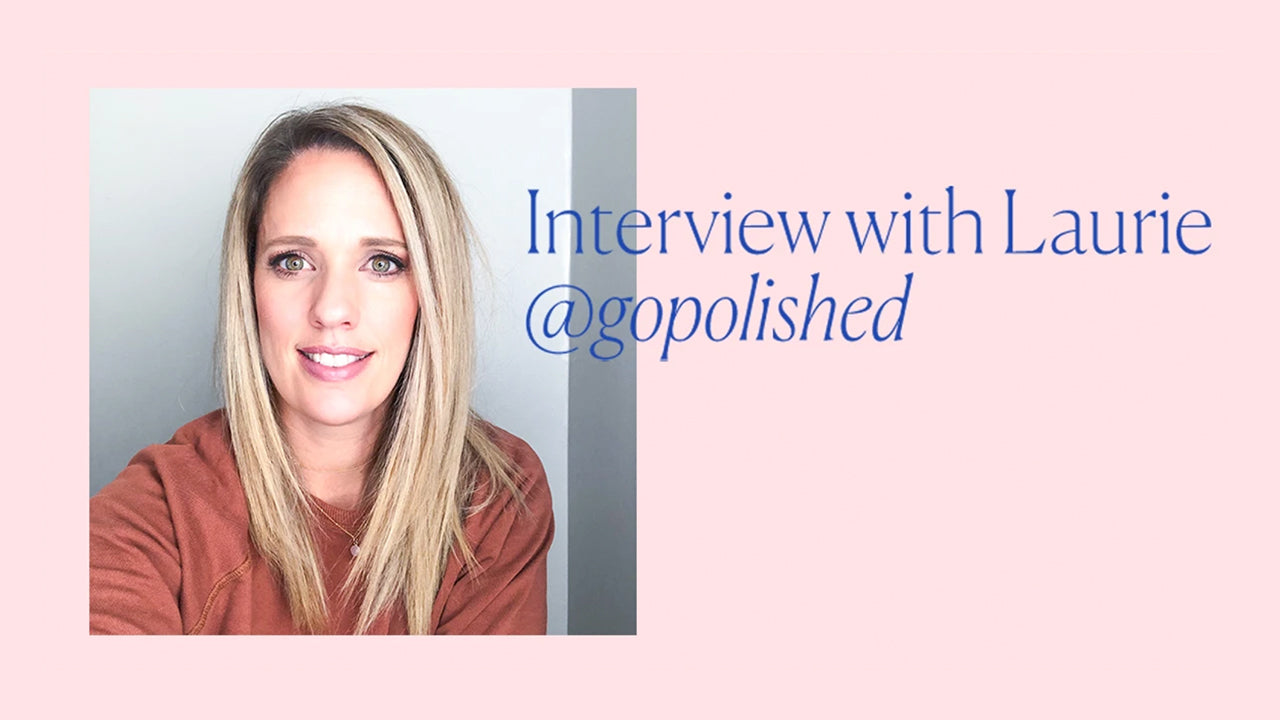 With picture-perfect nails, we turned to someone who has been with us nearly since the beginning. Meet Laurie, a nail polish lover from Utah. 
We learn about breaking out of our comfort zone with a bold shade and why being yourself is the best advice for swatching nail polish. She shares her tips for getting the perfect nailfie and a collection of her favorite colors. 
Follow her on Instagram @gopolished for your daily dose of nail art, swatches of the newest nail polish collections, and her favorite colors. 
Q: When you're not painting nails -- what could we find happening if we went behind the scenes with you?
I have four kids that keep my pretty busy. With many kids comes a lot of cleaning, laundry and cooking, so I do a lot of that. 😊 Baking and cooking can be really enjoyable for me (when I am organized and prepared). I love to find new recipes! I love the outdoors! I love going on walks and hikes with my family and our dog Piper. In the summer, you can find me out on the lake or by the pool with a book in hand. Traveling is another passion of mine.
Q: What inspired you to create @gopolished?
I wore polish a bit in high school but I never really thought my nails were worth painting. They peeled a lot and just didn't grow. I didn't really get into painting my nails until about 8 years ago. At the time I was going through some hard life challenges. I started researching colors and painting my nails as a distraction. It became such a fun hobby! It was relaxing, made me feel put together, made me feel good about myself and brought me a little joy during that difficult time. Nail art was also a creative outlet for me. I always have to have some sort of creative outlet. I discovered that I didn't have to have the perfect nails to enjoy this hobby. I wanted to share the joy I had found in discovering wearing beautiful colors and to let people know it was easy for them to go polished too!
Q: If you could pick one -- what is your favorite nail art design you've created? What inspired it?
I love floral designs! I have one in particular that I love that has pink and orange flowers over a sheer black base surrounded by a thin black border. I was inspired by a picture of a beautiful dress I saw online. It was challenging and took some creativity so I think that's why I like it so much.
Q: What brand or other nail artists would you love to collaborate with?
I have had opportunities to collaborate with Essie and the company is fantastic! I haven't loved a company more. I would love to work with OPI one day. In high school I had a small OPI collection I cherished. I have been an OPI fan for a long time. They are one of my favorite brands. And, their polish names are the best! I would love to be able to name a polish of my very own someday. 😊
Q: For everyone exploring the colorful world of nail polish -- what are three colors you suggest everyone try to wear?
Pale Pink - it's my absolute favorite to wear. It's feminine, soft and will give you an instant tan! Bright Royal Blue - I think everyone needs to break out of their comfort zone and try a bold shade. I remember the first time I tried blue, I instantly fell in love. Mint - I love mint because it goes with any color you wear. It's so versatile. 
Q: If you could choose one nail color to describe yourself, which one would you choose?
Coral. It's a color that likes to have fun! A shade of summer and sunshine! It's also a mix of pink, red and yellow. Pink represents compassion, nurturing and love. Red represents strength, power and a little bit of spice. Yellow represents optimism, happiness, honor and energy. I feel those qualities describe my personality pretty well.
Q: What are your tips for getting the perfect #nailfie?
I would say it's all about the lighting. Indirect sunlight is the best. Have your backdrop be very clean and simple so the main focus is your nails. I also love to use nature as a backdrop as well.
Q: For anyone that wants to start swatching nail polish, what advice can you share with them?
Be YOU! Try to have a clean look for your manis as well as your social media page. Make it your style so you stand out. 
Q: What is the last nail polish you bought?
The last polish I bought was DND Coral Castle. It's a beautiful light pink shade. My favorite shade to wear. 
Q: Lastly, would you rather wear only one nail color for an entire year or not have your nails painted at all for an entire year?
I would say I would rather wear one color on my nails all year than not have them painted at all.
Shop Laurie's favorites!
Check out more from Laurie!
Tags: Influencers , Pro Tips ,